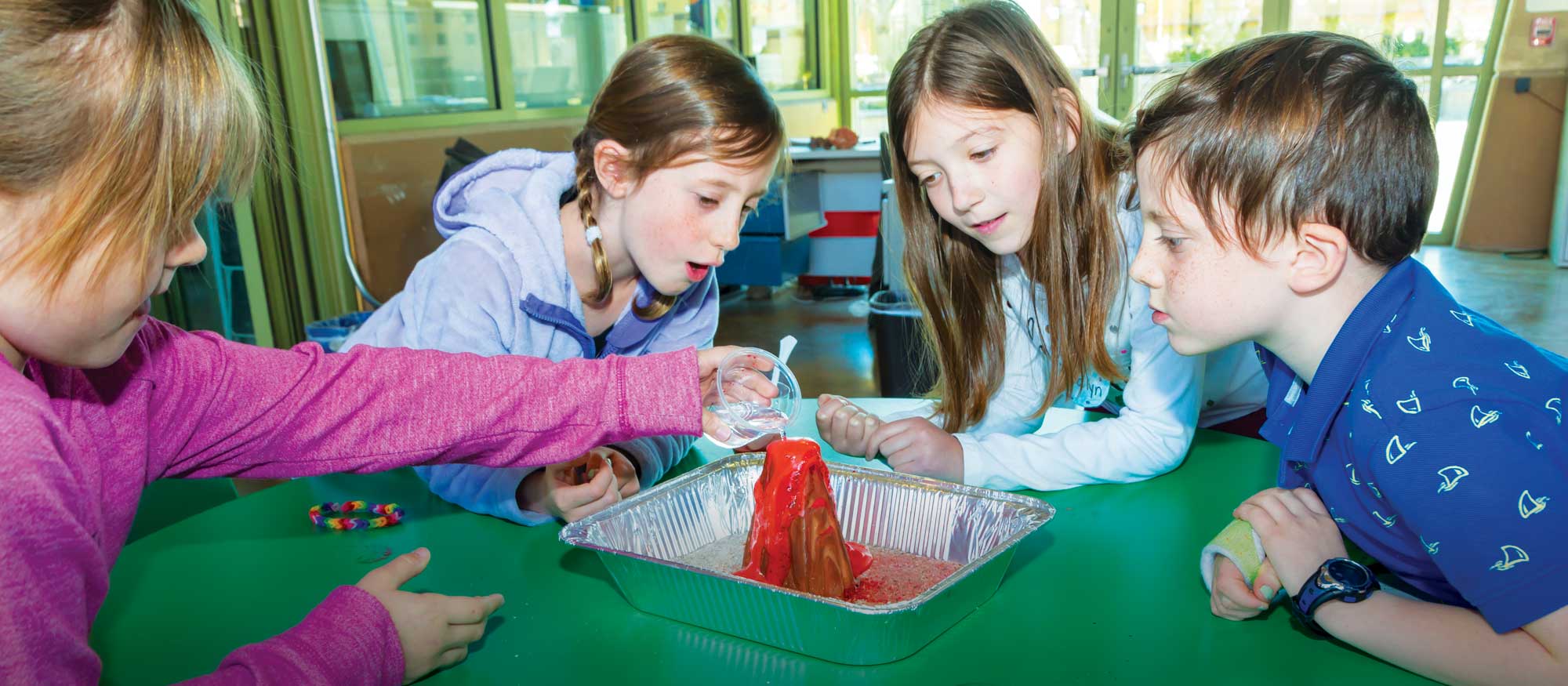 Kids camps
We're committed to youth education, inspiring environmental stewardship and celebrating our community's vibrant history.
Spring Break Camp
Eureka! Inspired by the Wild (April 15-19)
Ages 6-12
"Wow, I wish I could be more like that cockroach" said no one ever...or did they? Join us for a fun-filled week of learning and adventure and say "Eureka!" as we explore all the cutting-edge science being inspired by the wild side of nature. From snake venom and spider silk to otter fur and yes, even the humble cockroach, there's a whole wild world of animal inspiration out there!
Spring Break Camp features hands-on projects and different themes each day, plus:
Explorations in our Nature Exchange and museums
Visits to our immersive Butterfly Habitat
Zoology encounters, hands-on learning with our naturalists and garden gurus
Fun crafts, STEM-based games and activities
Learn more / Register
Summer Camps
Not every camp can boast access to experts in fields from archaeology to zoology, but we can here at the Springs Preserve, where our selection of summer camps are equal parts fun and learning! By popular demand, we've added three new camps just for age 5 and a new Summer STEM Retreat for preteens and teens ages 12-14. Kids ages 6-11 still have eight awesome weeks of camp to choose from in 2019—every week features new, learning- and nature-based adventure themes!
Learn more / Register
Junior Camps
NEW! Just for kids age 5
Includes fun crafts and games, cool museum explorations, swimming at the YMCA, hands-on learning and demos with zoologists, and more!
Fairytale Adventures (June 10-14)


Once upon a time, our littlest campers set out on a quest for magic and adventure. Hands-on learning will bring their favorite stories to life!

Mini Magic (July 8-12)


Get your wands ready and come join us for a spell!

Construction Crew (July 22-26)


Can little hands create mighty things? Let's find out as we build and learn together

.
Adventure Camps
Ages 6-11
Includes acting with Drama Kids International, swimming at the YMCA, cool museum explorations, hands-on learning demos with our naturalists, zoologists and garden gurus, weekly visits to our Nature Exchange, fun crafts, awesome games and cool theme projects, and more!
Dinosaurs (June 3-7)


Start summer with a roar! Dinosaurs are taking over the Springs Preserve and our campers are ready for exploring and dinosauring. Grab your tickets before they go extinct!

Pirates and Princesses (June 10-14)


Yo ho ho and a bottle of fun! From the high seas to the highest tower in the castle, we'll be exploring the histories and mysteries of pirates and princesses...with the help of science, of course. Whether you're searching for buried treasure or crown jewels, this week of camp is bound to be legendary.

Wild Weather (June 17-21)


Summer is heating up as we explore the science of worldwide weather. From tornadoes to rainbows to a winter wonderland, this mix of learning and fun is sure to be a breath of fresh air.

Creepy Crawlers (June 24-28)


Find out what's really bugging us here at the Springs Preserve. From slimy worms to glowing scorpions, we'll dig into the world of arthropods and discover the truth about our creeping crawling companions.

Wizard School (July 8-12)


You may have thought school was out for the summer, but we are headed to Hogwarts for another week of magical fun!

Lizard School (July 15-19)


Wizard School? We thought you said LIZARD School! All Iguana do is learn about these radical reptiles.

Build It (July 22-26)


Something that floats, somethings that flies, somethings that's sturdy, or something that's high—let's build it! Put your engineering and creativity to the test.

Moving and Grooving (July 29-Aug. 2)
Go out with a roar, a song, a holler, and a stomp. The last week of camp celebrates summer with all things loud, messy, and moving.


Summer STEM Retreat (August 5-9)
NEW! Ages 12-14
Explore the science, technology, engineering and math behind the many cool careers at the Springs Preserve! Take a hands-on peek behind the curtains with our archeology, audio-visual, zoology, horticulture, and hydrology teams. Plus, enjoy traditional summer camp activities, including swimming at the YMCA!
This program is supported by the generous contributions of our sponsors Sharon & Stephen Pierce
Guidelines and Required Forms
Check out the Family Information Guide, Policies and Required Forms below for information on refunds, lunches, what you'll need for the first day of camp, and more! Enrolled campers will need to bring all of the required forms included in this packet on their first day of camp.