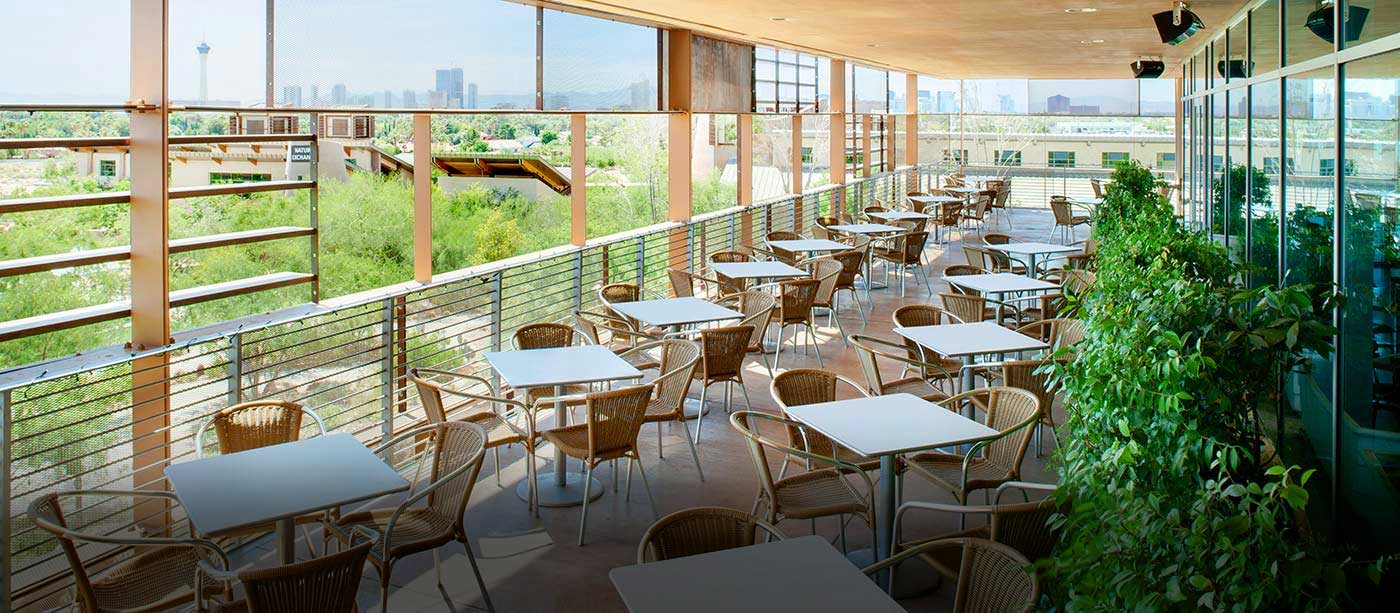 Divine Cafe
Whether choosing to dine comfortably indoors or enjoy the fresh air and scenic surroundings on the patio, visitors will love the Divine Cafe's breathtaking view of the Las Vegas Strip and surrounding valley.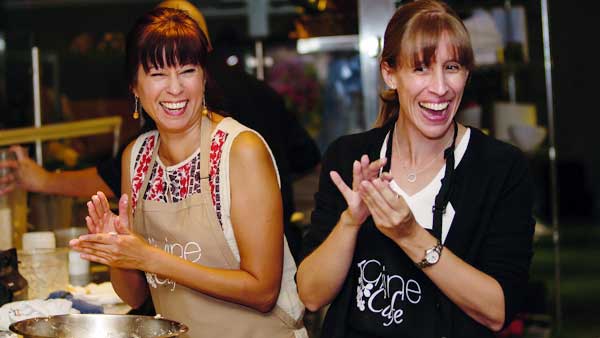 Hands-on cooking classes
Hosted in the chef's kitchen at Divine Cafe, you'll learn the secret recipes and expert techniques to create gourmet foods. View our Events & Activities calendar for the latest list of classes.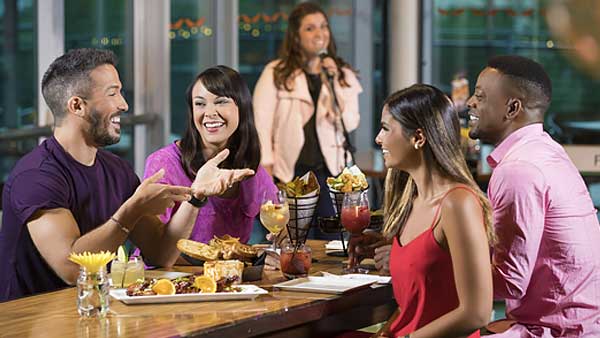 Happy Hour
Happy hour at Divine Cafe, held every Thursday from 4 to 8 p.m., features live music, and an ever-changing specially-priced food and cocktail menu.
Menus
Salads
Quinoa & Cauliflower $10
Roasted Cauliflower. Lemon Poached Quinoa. Purple Cabbage. Kale. Cranberries. Sunflower Seeds. Blood Orange. Shallot Dressing.
Ranchero Salad $10
Romaine. Black Bean. Corn. Onion & Peppers Salad. Rustic Tomato Pico. Shredded Pepper Jack. Tostada Crust. Jalapeno Vinaigrette.
California Chop $10
Romaine. Avocado. Tomato. Smoked Bacon. Yellow Corn. Crumbled Bleu. Cilantro Ranch.
Divine Grilled Chicken $11
Grilled Chicken. Greens. Cucumber. Tomato. Ditalini Pasta. Watermelon Radish. Crouton. Feta Cheese. Green Goddess Dressing.
Salmon Nicoise $14
Grilled Salmon Mixed Greens. Baby Potato. Boiled Egg. Red Onion. Kalamata Olive. Caper & Pimento Relish. Spicy Honey Mustard Vinaigrette.
Additions
Tofu $2, Chicken $2, Salmon $6
Lunch Specials
Items below come with choice of one side: French Fries, Toter Tots, Divine Chips or Side Salad.
Divine Burger $10
Angus Patty. Mix Greens. Tomato. Onion. Cheese. Russian Dressing. Brioche Bun.
Vegan Western $11
Vegan Patty. Petit Greens. Tomato. Crisp Onion. Daiya Cheddar Cheese. BBQ Sauce. Whole Grain Roll.
Monte Cristo $10
Black Forest Ham. Swiss Cheese. Cornflake Crusted Texas Toast. Grape Jelly Compote. Fried Egg.
Turkey Quesadilla Melt $11
Roasted Pull Turkey. Pepper Jack & Brie Cheese. Mix Greens. Citrus Cumin Crema. Cranberry Salsa.
Chicken Bulgogi Wraps $11
Korean Spiced Broccoli & Kohl Rabi Slaw. Kim Chee Brussel Sprouts. Jasmine Rice. Pickled Ginger. Sriracha Crème.
Chicken Caprese $12
Panko Crusted or Grilled Chicken. Fresh Buffalo Mozzarella. Roma Tomato. Arugula. Garlic Truffle Oil. Balsamic Glaze. Rustic Hard Roll.
Cajun Grilled Salmon $13
Caramelized Onions. Roasted Bell Peppers. Tomato. Mix Greens. Creole Aioli. Boursin Cheese. Brioche Bun.
Fish & Chips $12
Beer Battered Fish. Fried Potatoes. Cole Slaw. Tater Sauce. Lemon Wedge.
Mains
Street Tacos $12
Pinto Beans. Cilantro Rice. Corn Tortilla & Slaw. Choice of One: Shredded Chicken or Tempura Fish or Black & Corn Succotash.
Bento Box $12
House Salad. Jasmine Rice. Stir Fry Vegetable. Choice of: Tofu $11, Chicken $13 or Salmon $15.
Chicken Milanese & Lasagna Roll $14
Ricotta. Mozzarella. Parmesan Cheese Rolled Lasagna. Thin Breaded Chicken. Arugula. Marinara.
Brick Oven Pizettes
Gluten free crusts available for an additional $1.50.
Cheese $9
Shredded Mozzarella. Marinara.
Classic Roni $10
Shredded Mozzarella. Marinara. Pepperoni.
Mediterranean Vegetable $11
Artichoke. Sun Dried Tomato. Shredded Mozzarella. Kale Pesto.
BBQ Chicken $11
Roasted Chicken. Caramelized Onion. Cilantro. Pepper Jack & Mozzarella Cheese.
Kids trays
Includes Grapes, Carrot Sticks, Goldfish Crackers, Toter Tots & Kids fountain drink. Recommended for 8 years and under.
Baby Burger $6
Chicken Tenders $6
Mac n Cheese $6
Healthy Kid Tray $6
Grilled Chicken or Tofu. Steamed Veggies. Rice. Grapes. Carrot Sticks. Kids Fountain Drink.
Sides
House Salad $3
Soup of the Day
$3.50 (cup), $6 (bowl)
Fries, Tots, or Divine Chips $3
Stir Fry Veggies with Tofu Crouton $5
Chicken Tenders $7
Sweets
Apple & Berry $7
Granola Brown Butter Crumble. Vanilla Ice Cream. Salted Caramel.
S'mores $7
Rocky Road Cookie. Toasted Marshmallow. Walnuts. Graham Cracker. Chocolate Pieces. Vanilla Ice Cream.
Beverages
Fountain Soda $3
Iced Tea $3
Freshly Brewed Coffee $3
Hot Tea $3
Infused Water $1.50
Dasani $2
Smart Water $3
Domestic Beer $5
Craft & Imported Beer $7
Champagne Split $7
Select House Wines $7
Food
Denver omelet $9
Ham. Yellow onion. Diced bell peppers. Shredded cheddar. Divine breakfast potato
French toast stick $7
Fried Texas toast coated in powder sugar. Maple syrup. Divine breakfast potato
Breakfast Croissant Burger $10
Hard egg. Smashed patty. Ham. Smoked apple-wood bacon. American cheese. toasted croissant bun. Divine potato. Chipotle hollandaise.
Huevos ranchero $8
Mexican style succotash. Pinto beans. Red potato. Salsa roja. Feta cheese. Sunny side up egg. Corn tostada.
Cheese blintz $8
Griddle blintz. Peppered cottage cheese. Grilled pineapple compote. Candied walnut syrup
Hawaiian style breakfast $10
Teriyaki grilled spam. Jasmine rice. Furikake fried egg. Mac salad
Drinks
Bloody Mary $7
absolute, house bloody mary mix
Prickly Pear Mimosa $7
prickly pear syrup, champagne split
Divine Sunrise $7
vodka, white cranberry, blood orange, mango
Note: This is a sample menu. Happy Hour selections change frequently.
Nibbles
Giant pretzel $8
Garlic & herb salted butter. Cheddar cheese sauce.
Meatball Sliders & Onion Rings $12
Melted Provolone. Italian herb marinara. Parmesan cheese.
Fried Chicken Basket $11
5 wings. 4 chicken tenders hot or plain. French fries. Carrots & celery sticks. Ranch dipping.
Pull Apart Cheese Bread $7
3 cheese stuffed sour dough loaf. Garlic & herb butter. Marinara.
Calamari $9
Panko crusted calamari. Tossed with pepperoncini. Lemon. Herb & spice. Tatar sauce. Marinara.
Pizza $9
Cheese or pepperoni. Shredded mozzarella. Herb marinara.
Cheesy Tots $6
Cheddar cheese sauce. Smoked bacon. Tomato & onion relish.
Charred Brussels $7
Truffle oil. Parmesan cheese. Lemon & balsamic glaze.
Funnel cake fries $5
Powder sugar. Raspberry & chocolate sauce.
Kids tray $6
Chicken tenders. Tots. Gold fish. Grapes. Baby carrots. Ranch
Cocktails
Blood Orange Paloma $8
Jose Cuervo. Grapefruit. Lime. Blood Orange Soda.
Sudden Fox $9
Bacardi. Malibu. Yuzu. Pineapple. Strawberry
Lemongrass Ginger Mule $8
Absolut. Lemongrass. Ginger. Lime. Soda.
Divine Mary $8
Absolut. Fresh Citrus. Housemade Bloody Mary Mix.
Blue Hawaiian $8
Absolut. Fresh Citrus. Housemade Bloody Mary Mix.
Whiskey Jack Rabbit $8
Jack Daniels. Lemon. Honey. Ginger.
We have a full bar, if your drink of choice isn't on the menu we will make it for you - just ask!
Grapes & Hops
Red Sangria $6 glass, $22 bottle
Pinot Noir $6 glass, $28 bottle
Cabernet $6 glass, $28 bottle
Chardonnay $6 glass, $28 bottle
Sauvignon Blanc $6 glass, $28 bottle
Sierra Nevada Seasonal Draft $4
Sierra Nevada Torpedo Draft $4
Sierra Nevada $6
Stella Artois $6
Blue Moon $6
Corona $6
Heineken $6
Bud Light $4
Firestone Walker 805 $6
Tenaya Creek $6
Hours
Monday-Friday
11 a.m. to 3 p.m.
Weekends
10 a.m. to 4 p.m.
Happy Hour
Thursdays, 4 to 8 p.m.
Member discount
Springs Preserve members receive a 10 percent discount at the Divine Cafe. Platinum members receive a 15 percent discount. (Discount excludes alcoholic beverages, Happy Hour, and catering. Visit our Membership page for details.)
About Divine Events
Divine Events operates the Divine Cafe at the Springs Preserve, and they are our exclusive caterer. They specialize in catering and full-service event planning for weddings, special events, corporate functions and company picnics. Most importantly, they create and implement memorable events that include delicious food served in an ambient environment by a dedicated team of experts. Divine Events is proud to be recognized by the Leading Caterers of America.
Learn more about Divine Events.
Savor the flavors of the Southwest with the Springs Preserve's prickly pear and Mojave Desert honey collection.