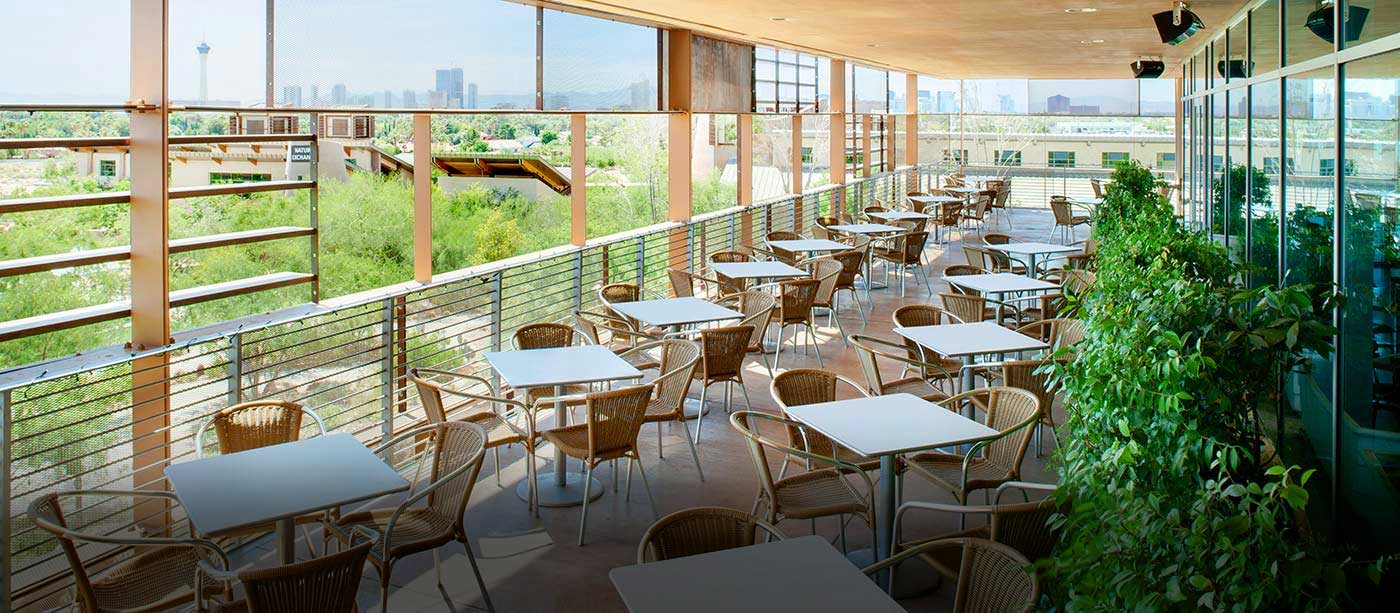 Divine Cafe
Whether choosing to dine comfortably indoors or enjoy the fresh air and scenic surroundings on the patio, visitors will love the Divine Cafe's breathtaking view of the Las Vegas Strip and surrounding valley.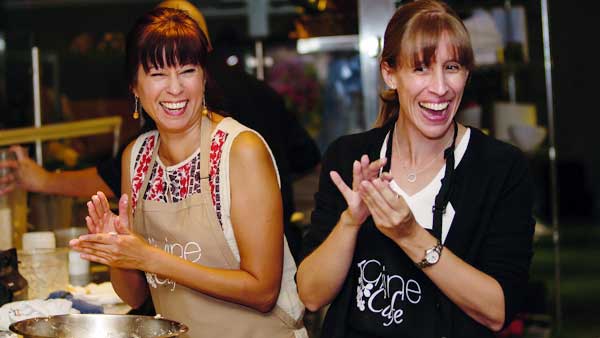 Hands-on cooking classes
Hosted in the chef's kitchen at Divine Cafe, you'll learn the secret recipes and expert techniques to create gourmet foods. View our Events & Activities calendar for the latest list of classes.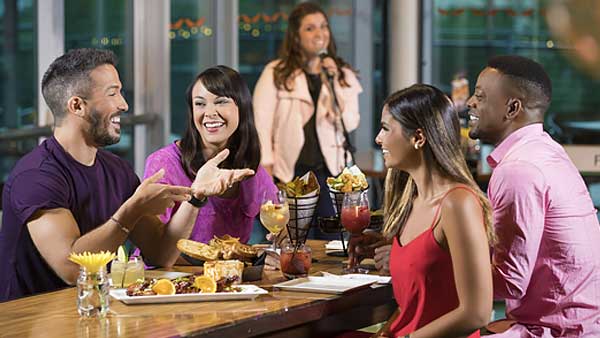 Happy Hour
Happy hour at Divine Cafe, held every Thursday from 4 to 8 p.m., features live music, and an ever-changing specially-priced food and cocktail menu.
Menus
Salads or wraps
Kale Caesar $8.50
Romaine Hearts. Kale. Parmesan Chips. Toasted Pumpkin Seed. Caesar Dressing
Chilled Noodle $9.50
Buckwheat Noodles. Kohl Rabi. Cabbage. Edamame. Carrots. Baby Corn. Egg. Peppers. Peanut Sauce. Sesame Vinaigrette
Waldorf $10
Braised Chicken. Red Apple. Grapes. Celery. Onion. Walnuts. Iceberg. Lemon Mayo. Lavosh Cracker
Quinoa & Cauliflower $10
Roasted Cauliflower & Mushrooms. Purple Cabbage. Kale. Cranberries. Sunflower Seeds. Blood Orange & Shallot Dressing
California Chop $10
Romaine. Avocado. Tomato. Smoked Bacon. Roasted Corn. Crumbled Bleu. Cilantro Ranch
Pecan & Watermelon $9.50
Petit Greens. Cubed Watermelon. Candied Pecans. Cucumber. Peach Slices. Blue Cheese. Blackberry & Peppercorn Dressing
Additions
Chicken $2, Salmon $4
All options available as a salad or wrap.
Meals
Items below come with choice of one side: French Fries, Toter Tots, Divine Chips. (Side salad or Soup cup, add $1.50.)
Burger $10
Angus patty. Bacon. Lettuce. Tomato. Cracked Pepper Mayo. Brioche Bun. Choice of Cheese.
Monte Cristo $10
Cured Ham. Swiss Cheese. Cornflake Crusted Texas Toast. Grape Jelly Compote. Fried Egg.
Falafel $9
Chickpea Doughnut. Spinach. Tomato. Onion. Cucumber. Feta. Tahini Aioli. Pita Pocket.
Lobster Rolls $12
Lemon Dill Lobster Salad. Celery. Tomato. Romaine. English Butter Roll
Cuban $10
Spiral Ham. Roast Pork. Swiss Cheese. Spicy Pickle. Dijon Spread. Cuban Roll
Muffaletta Grilled Cheese $11
Salami. Capicola. Mortadella. Provolone. Swiss. Giardiniera Tapenade. Rosemary Ciabatta.
Garden Sliders $9.50
Vegetable Patties. Onion Crisps. Tomato. Greens. Lemon Kale Pesto. Slider Buns
Island Po'boy $10
Coconut Shrimp. Purple Cabbage. Cilantro. Carrots. Toasted Almonds. Grilled Pineapple. Honey Adobo Mayo.
Turkey Melt $9.50
Roasted Turkey. Swiss. Tomato. Avocado. Garlic Aioli. Multigrain Keiser Roll.
Chicken Asada Torta $9.50
Barbequed Chicken. Lettuce. Tomato. Borracho Bean & Feta Spread. Guacatillo.
Pizza and snacks
Gluten free crusts available for an additional $1.50.
Classic Cheese/Pepperoni $9
Mozzarella. Parmesan. Marinara.
3 Meat Pizza $11
Pepperoni. Hard Salami. Chopped Bacon. Mozzarella. Marinara.
Chicken Supreme Pizza $10
Grilled Chicken. Mushrooms. Bell Peppers. Onions. Olives. Tomatoes. Mozzarella. Marinara.
Persian Pizza $11
Curry Chicken. Cauliflower. Spinach. Dill Havarti. Chickpea Spread. Dill & Tahini Creme.
Prosciutto Flatbread $9
Sliced Apples. Red Onion. Arugula. Parmesan. Goat Cheese. Balsamic.
Brazi Bites $6.50
Brazilian Cheese Bread. Spicy Bleu Cheese Dip.
Brauhaus Pretzel $7.50
Shareable Pretzel. Honey Mustard. Cheese Sauce.
Chicken-rrone $7.50
Chicharron style Fried Chicken. Jalapeno. Tajin Powder. Feta. Avocado Lime Salsa.
Kids trays
Includes Grapes. Carrot Sticks. Goldfish. Toter Tots & Kids fountain drink. Recommended for 8 yrs & under.
Baby Burger $6
Chicken Tenders $6
Mac n Cheese $6
Sweets
Funnel Fries $5
Chocolate and Raspberry Sauce.
Warm Cookie Skillet $6
Chocolate Chip Cookie. Vanilla Ice Cream. Caramel Drizzle.
Beverages
Fountain Soda $3
Iced Tea $3
Freshly Brewed Coffee $3
Hot Tea $3
Infused Water $1.50
Dasani $2
Smart Water $3
Domestic Beer $5
Craft/ Imported Beer $7
Champagne Split $7
Select House Wines $7
Sides
Soup Of The Day
$3.50 (cup), $6 (bowl)
Fries, Tots, or Divine Chips $3
Side Salad $3
Food
Eggs Benedict $9
english muffin, poached egg, black forest ham, spinach, hollandaise, divine potatoes
Chicken and Waffles $10
miniature belgian waffles, cornflake crusted chicken, maple syrup, divine potatoes
Chorizo Quesadilla $7
mexican sausage, scrambled eggs, cheddar cheese, pico di gallo, sour cream, divine potatoes
Toastwich $8
sourdough panini, ham & bacon omelet square, american cheese, grape jelly, divine potatoes
Bacon Cheddar Frittata $8.50
served with house salad, herbed tots
Monte Cristo $10
black forest ham, swiss cheese, cornflake crusted texas toast, grape jelly compote, fried egg
Drinks
Bloody Mary $7
absolute, house bloody mary mix
Prickly Pear Mimosa $7
prickly pear syrup, champagne split
Divine Sunrise $7
vodka, white cranberry, blood orange, mango
Nibbles
Greek Fries $5
lemonpepper, feta, pepperoncini, tzatziki
French Onion Cheese Dip $6
caramelized onion, assorted cheese, crostini, crispy onion, parmesan topping
Orange Glazed Chicken Wings $8
cilantro, toasted garlic
Brisket Bao Buns $7
pickled red onion, fresh cilantro, spicy soy glaze
Chicken-rrone $7.50
chicharrón style fried chicken, jalapeños, feta, tajin, avocado lime
Street Corn Fritter $7
cilantro pesto, parmesan aioli
Catfish Sliders $8
tempura swai, coleslaw, chili lime aioli
Pepperoni Pizza $9
pepperoni, mozzarella, parmesan, marinara
Hot Cookie Skillet $5
chocolate chip cookie, ice cream, chocolate sauce
Sips
Cucumber Cocktail $8
gin, muddled cucumber, simple syrup, sweet and sour
Basil Lemonade $8
vodka, basil, lemon, sweet and sour, simple syrup, sprite
Blackberry Julep $8
whiskey, blackberries, simple syrup, sweet and sour, soda water
Special $6
something new each week
Sangria $6 (glass), $22 (pitcher)
red or white wine, triple sec, fruit
Grapes
One Hope $6 (glass), $28 (bottle)
chardonnay, sauvignon blanc, cabernet, merlot
Champagne $7
Hops
Taps $4
Sierra Nevada Torpedo, Sierra Nevada Seasonal
Bucket $15
Four bottles, always changing. Ask your server for today's selection.
Standards $4
Coors Light, PBR
Craft and Imports $6
Great Basin Icky and Outlaw Stout, Brooklyn Lager, Sam Adams, Corona, Modelo, Blue Moon, New Castle, Stella Artois, Strongbow Cider.
Hours
Monday-Friday
11 a.m. to 3 p.m.
Weekends
10 a.m. to 4 p.m.
Happy Hour
Thursdays, 4 to 8 p.m.
Member discount
Springs Preserve members receive a 10 percent discount at the Divine Cafe. Platinum members receive a 15 percent discount.
About Divine Events
Divine Events operates the Divine Cafe at the Springs Preserve, and they are our exclusive caterer. They specialize in catering and full-service event planning for weddings, special events, corporate functions and company picnics. Most importantly, they create and implement memorable events that include delicious food served in an ambient environment by a dedicated team of experts. Divine Events is proud to be recognized by the Leading Caterers of America.
Learn more about Divine Events.
Savor the flavors of the Southwest with the Springs Preserve's prickly pear and Mojave Desert honey collection.