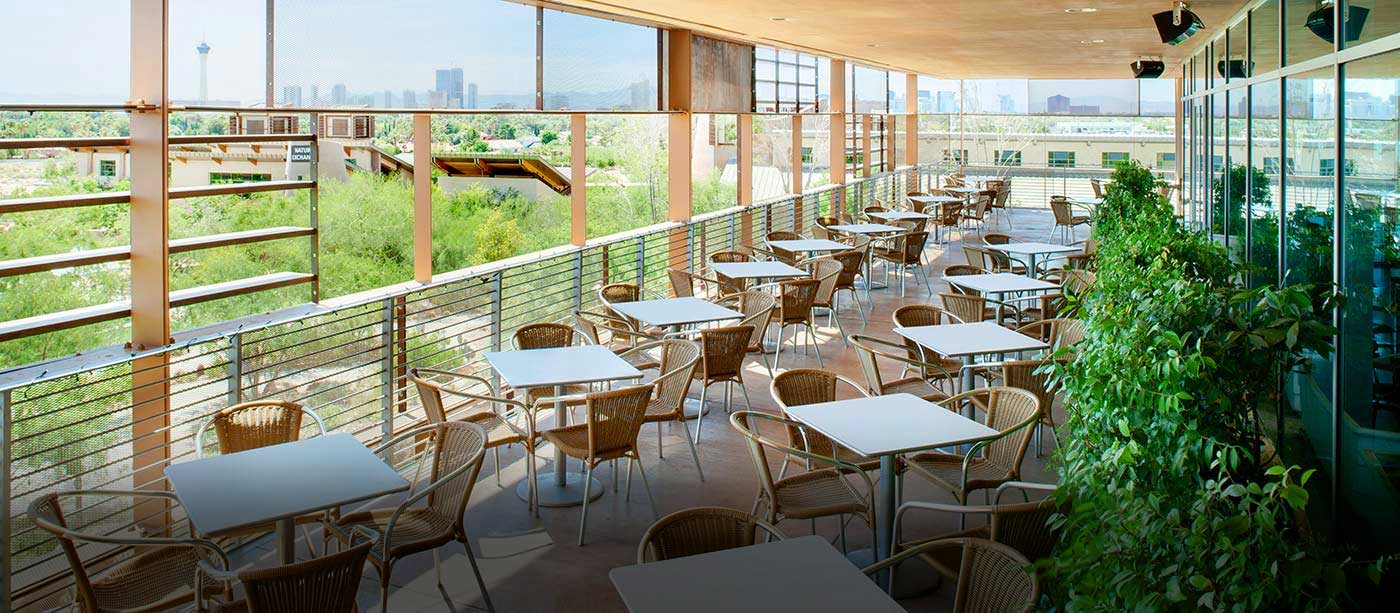 Divine Cafe
Whether choosing to dine comfortably indoors or enjoy the fresh air and scenic surroundings on the patio, visitors will love the Divine Cafe's breathtaking view of the Las Vegas Strip and surrounding valley.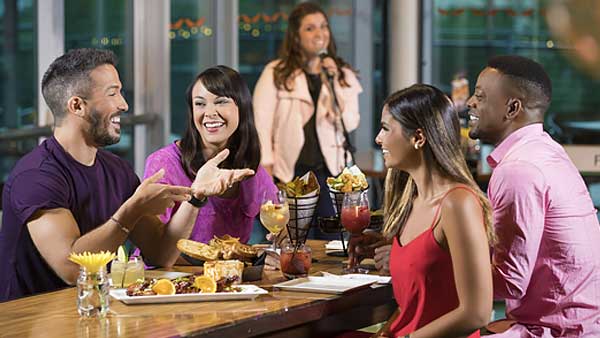 Happy Hour
Happy hour at Divine Cafe, held every Thursday from 4 to 8 p.m., features live music, and an ever-changing specially-priced food and cocktail menu.
Hands-on cooking classes
Hosted in the chef's kitchen at Divine Cafe, you'll learn the secret recipes and expert techniques to create gourmet foods. View our Events & Activities calendar for the latest list of classes.
Menus
Gluten sensitive, vegan and vegetarian menu options are available at Divine Cafe. Common allergens, including nut allergy and shellfish allergy, are noted where applicable on the menu. Before placing your order, please inform your server or manager if a person in your party has a food allergy. Every effort will be made to address your unique dietary needs.
Lunch menu served Monday-Friday, 11 a.m. to 3 p.m. and weekends, 10 a.m. to 4 p.m.
Small Bites
Mini Charcuterie Board $15
Imported and domestic meats and cheeses, mango chutney and stone-ground mustard. Served with crackers and flatbreads.
Seafood Coconut Ceviche $12
Assorted seafood tossed in a refreshing citrus coconut blend with cucumber and onion. Served with plantain chips.
Chicken Wings $10
Crispy chicken wings served your choice of BBQ, buffalo or lemon pepper style. Served with garlic ranch and celery sticks.
Warm Mini Pretzels with Dipping Sauce Trio $8
Warm, soft pretzels served with sweet cream, pub cheese and stone-ground mustard dipping sauces.
Salads
Salmon Niçoise $14
Fresh grilled salmon, mixed greens, fingerling potatoes, hard-boiled egg, prickly pear vinaigrette and lavash crisp.
Divine Hearty Grain Salad $13
Spinach and arugula, roasted sweet potato, chayote and cauliflower, faro, quinoa. Served with chia yuzu vinaigrette and pomegranate arils.
Vegas Chop Salad $12
Leafy lettuce blend topped with your choice of crispy or grilled chicken, bacon crumbles, diced tomato, shredded cheese, green onion, and crunchy sesame stick. Served with garlic ranch dressing.
Lean Green Salad $11
Spinach and arugula, topped with garlic croutons, bacon lardon, topped with a poached egg and served with green goddess dressing.
Additions: Tofu $2, Chicken $2, Salmon $7
Bowls
Greek Bowl $13
Your choice of salmon, roasted chicken or gyro meat, chopped romaine, warm orzo rice pilaf, Roma tomato, kalamata olives, Persian cucumbers, feta crumbles and hummus. Served with Greek vinaigrette.
Teriyaki Bowl $10
Your choice of chicken, salmon or tofu, with white or brown jasmine rice, fresh seasonal veggies and a pineapple teriyaki sauce.
Specialties & Sandwiches
Divine Fish N Chips $13
Beer battered fish, fried potatoes and coleslaw.
Prime Rib Sandwich $13
Herb crusted slow roasted prime rib dipped in a flavorful au jus on a bed of lemony arugula in a toasted French roll, topped with creamy horseradish and giardiniera sprinkle and cup of au jus.
Divine Burger $11
Beef or turkey patty made to order, topped with Havarti cheese, crisp green leaf lettuce, fresh tomatoes and finished with Divine secret sauce.
Monte Cristo $10
Honey baked pit ham stuffed in a cornflake crusted sandwich, melted swiss cheese and topped with a sunny side-up egg, and finished with a wild berry coulis drizzle.
Tuna Melt $10
Freshly made tuna salad, with a mild Pico de Gallo, served on buttery sourdough with melted Havarti cheese.
Divine Impossible Burger $14
Grilled and topped with almond cheese, special shiitake bacon, vegan secret sauce, crisp leaf lettuce, sliced tomato and served on a vegan bun.
Hand Tossed Pizzas
Original Pepperoni $11
Fresh mozzarella and classic pepperoni.
BBQ Chicken $11
Grilled BBQ chicken topped with caramelized red onions, special cheese blend and fresh cilantro.
Veggie Delight $10
Fresh mozzarella, grilled zucchini, cremini mushrooms, caramelized red onion and black olives.
Original Cheese $9
Fresh mozzarella and garlic herb oil.
Gluten free crusts available for an additional $1.50.
Desserts
Strawberry Crumble $7
Strawberry ice cream, fresh chopped berries, crunchy granola crumble in a waffle bowl.
Churro Ice Cream Sandwich $7
Handmade churro cake filled with Tahitian vanilla ice cream, whipped cream, chocolate drizzle, berry sauce and Oreo dust.
Fresh Baked Jumbo Cookie $3.50
Chocolate chip or oatmeal raisin.
Gluten Free Chocolate Chip Cookies $4
Individually wrapped and sealed.
Kid's Menu
Baby Burger $6
Chicken Tenders $6
Mac & Cheese $6
Healthy Chicken Breast $6
Healthy Tofu $6
Recommended for 8 years and under. Served with grapes, carrot sticks, fresh ranch dressing, tater tots and goldfish crackers (or rice and steamed veggies), and a kids' fountain drink.
Sides
Sweet Potato Waffle Fries with Maple Mustard Dipping Sauce $4
Divine Chips with Ranch Dip $3
French Fries $3
Tater Tots $3
Soup of the Day
Cup $3.50, Bowl $5
Side Salad $3.50
Side of Fresh Garlic Ranch $1
Beverages
Select House Wines $7
Champagne Split $7
Craft & Imported Beer $7
Domestic Beer $5
Freshly Brewed Coffee $3
Iced Tea $3
Hot Tea $3
Fountain Soda $3
Smart Water $3
Dasani $2
Infused Water $1.50
Grab and Go menu served Monday-Friday, 9 a.m. to 3 p.m. and weekends, 9 a.m. to 4 p.m.
Yogurt parfait $3
Fruit cup $2.50
Pound cake slices $2
Fresh fruit $1
Shaker salads $6
Fruit and cheese snack pack $8
Protein snack pack $9
Charcuterie snack pack $12
Brunch menu served weekends, 10 a.m. to 4 p.m. Note: This is a sample menu. Brunch selections change frequently.
Brunch Dishes
Chicken & Waffles $10
Bite-sized waffles and savory breaded chicken (either chicken tenders or chicken wings.) Served with sweet maple syrup and a side of fresh fruit.
Breakfast Burrito $8
Scrambled eggs, cheddar cheese, bacon, and crispy potatoes rolled in a flour tortilla. Served with salsa and a side of fresh fruit. Add sour cream for $1.
Biscuit Benny $8
Scrambled eggs, country gravy, and fire roasted shredded cheddar-jack cheese on top of an open-faced cheddar biscuit. Served with breakfast potatoes or fresh fruit.
Garden Omelet $8
Spinach, mushrooms, and broccoli, with your choice of pepper jack or cheddar cheese. Served with breakfast potatoes or fresh fruit.
Vegas Omelet $10
Tender steak, caramelized onions, baby arugula, and Havarti cheese. Served with breakfast potatoes or fresh fruit.
Specialty Drinks
The Original Divine Blood Mary $8
Our version of a classic using Tito's Vodka. Make it spicy or mild!
The Classic Mimosa $8
Champagne and your choice of juice (Pineapple, Cranberry, or Orange.)
Mimosa to the 2nd Power $9
Add a shot of gin, some lemon juice, and simple syrup to your mimosa.
Fun in the Park $9
Our version of Sex on the Beach. Vodka, peach schnapps, orange and cranberry juices.
Lynchburg Lemonade $9
Jack Daniels, triple sec, lemon juice, and Sprite.
The Divine Green Machine $10
Captain Morgan, Malibu rum, pineapple juice, sweet and sour mix, and blue curaçao.
Happy Hour menu served Thursdays, 4 to 8 p.m. Note: This is a sample menu. Happy Hour selections change frequently.
Nibbles
Giant pretzel $8
Garlic & herb salted butter. Cheddar cheese sauce.
Meatball Sliders & Onion Rings $12
Melted Provolone. Italian herb marinara. Parmesan cheese.
Fried Chicken Basket $11
5 wings. 4 chicken tenders hot or plain. French fries. Carrots & celery sticks. Ranch dipping.
Pull Apart Cheese Bread $7
3 cheese stuffed sour dough loaf. Garlic & herb butter. Marinara.
Calamari $9
Panko crusted calamari. Tossed with pepperoncini. Lemon. Herb & spice. Tatar sauce. Marinara.
Pizza $9
Cheese or pepperoni. Shredded mozzarella. Herb marinara.
Cheesy Tots $6
Cheddar cheese sauce. Smoked bacon. Tomato & onion relish.
Charred Brussels $7
Truffle oil. Parmesan cheese. Lemon & balsamic glaze.
Funnel cake fries $5
Powder sugar. Raspberry & chocolate sauce.
Kids tray $6
Chicken tenders. Tots. Gold fish. Grapes. Baby carrots. Ranch
Cocktails
Blood Orange Paloma $8
Jose Cuervo. Grapefruit. Lime. Blood Orange Soda.
Sudden Fox $9
Bacardi. Malibu. Yuzu. Pineapple. Strawberry
Lemongrass Ginger Mule $8
Absolut. Lemongrass. Ginger. Lime. Soda.
Divine Mary $8
Absolut. Fresh Citrus. Housemade Bloody Mary Mix.
Blue Hawaiian $8
Absolut. Fresh Citrus. Housemade Bloody Mary Mix.
Whiskey Jack Rabbit $8
Jack Daniels. Lemon. Honey. Ginger.
We have a full bar, if your drink of choice isn't on the menu we will make it for you - just ask!
Grapes & Hops
Red Sangria $6 glass, $22 bottle
Pinot Noir $6 glass, $28 bottle
Cabernet $6 glass, $28 bottle
Chardonnay $6 glass, $28 bottle
Sauvignon Blanc $6 glass, $28 bottle
Sierra Nevada Seasonal Draft $4
Sierra Nevada Torpedo Draft $4
Sierra Nevada $6
Stella Artois $6
Blue Moon $6
Corona $6
Heineken $6
Bud Light $4
Firestone Walker 805 $6
Tenaya Creek $6
Hours
Monday-Friday
9 a.m. to 3 p.m.
Limited Grab and Go menu 9 to 11 a.m.
Weekends
9 a.m. to 4 p.m.
Limited Grab and Go menu 9 to 10 a.m.
Happy Hour
Thursdays, 4 to 8 p.m.
Member discount
Springs Preserve members receive a 10 percent discount at the Divine Cafe. Platinum members receive a 15 percent discount.
Discount excludes alcoholic beverages, Happy Hour, kids menu and catering. Visit our Membership page for details.
About Divine Events
Divine Events operates the Divine Cafe at the Springs Preserve, and they are our exclusive caterer. They specialize in catering and full-service event planning for weddings, special events, corporate functions and company picnics. Most importantly, they create and implement memorable events that include delicious food served in an ambient environment by a dedicated team of experts. Divine Events is proud to be recognized by the Leading Caterers of America.
Learn more about Divine Events.
Savor the flavors of the Southwest with the Springs Preserve's prickly pear and Mojave Desert honey collection.