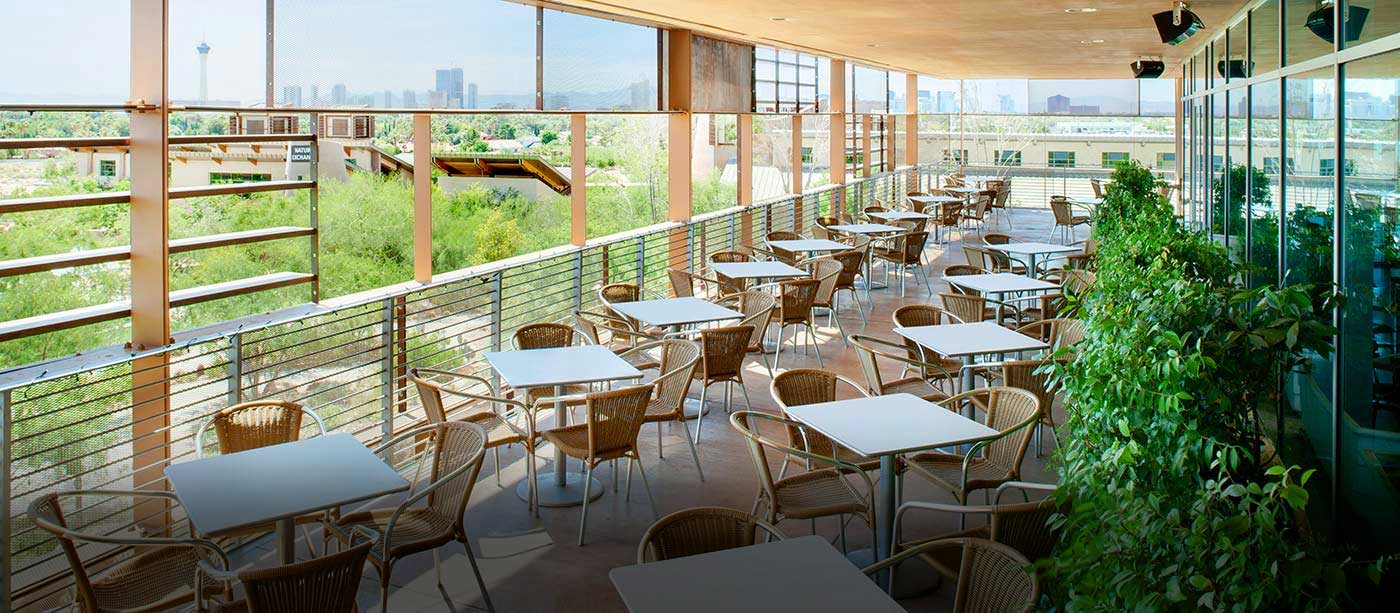 Divine Cafe
Whether choosing to dine comfortably indoors or enjoy the fresh air and scenic surroundings on the patio, visitors will love the Divine Cafe's breathtaking view of the Las Vegas Strip and surrounding valley.
Menu
Gluten sensitive, vegan and vegetarian menu options are available at Divine Cafe. Common allergens, including nut allergy and shellfish allergy, are noted where applicable on the menu. Before placing your order, please inform your server or manager if a person in your party has a food allergy. Every effort will be made to address your unique dietary needs.
Brunch
Brunchritto $12
Flour tortilla, scrambled eggs, chorizo or tofu, black beans, cheddar cheese, sour cream, tater tots, enchilada sauce.
Southwest Bowl $10
Scrambled eggs, bacon or grilled zucchini, black beans, crumbled queso fresco, pico de gallo, sour cream, tater tots, ranchero, and tomatillo sauce.
Monte Cristo $10
Cornflake crusted toast, honey baked pit ham, swiss cheese, sunny side up egg, wild berry coulis drizzle, and side of tots.
Salads
Salmon Niçoise $14
Grilled salmon, mixed greens, fingerling potatoes, hard boiled egg, lavash crisp, prickly pear vinaigrette.
Vegas Chop $13
Grilled or crispy chicken, leafy lettuce blend, bacon crumbles, tomato, cheddar cheese, green onion, fresh garlic ranch.
Farmers Salad $11
Baby spinach and arugula mix, grilled corn and zucchini, red onion, radish, tomato, english cucumber, farro, miso coconut chia vinaigrette.
Add chicken for $2.50 or salmon for $5
Bowls
Teriyaki $10
White or brown jasmine rice. Chicken, tofu, or salmon (+$2.) Served with fresh veggies and pineapple teriyaki sauce.
Pizza
Gluten free crust available for an additional $1.50.
Pepperoni $12
Mozzarella and crispy pepperoni.
BBQ Chicken $12
Grilled BBQ chicken, caramelized red onion, special cheese blend and cilantro.
Veggie $11
Mozzarella, grilled zucchini, caramelized red onion, crimini mushroom, black olives.
Cheese $10
Mozzarella and fresh garlic herb oil.
Burgers
Served with chips, fries, tots, or side salad.
Divine Burger $13
Half pound angus beef patty, melted havarti cheese, green leaf lettuce, tomato, Divine secret sauce.
Impossible Burger $15
Grilled Impossible patty, almond cheese, shiitake bacon, green leaf lettuce, tomato, Divine vegan secret sauce.
Chicken Burger $12
Grilled chicken breast, melted havarti cheese, bacon, lettuce, tomato, avocado aoili.
Shareables
Charcuterie Board $15
Meats, cheeses, mango chutney, stone ground mustard, crackers, and flatbread.
Chicken Wings $10
Eight crispy wings in choice of buffalo, BBQ, sweet chili garlic, or teriyaki sauce. Ranch and celery on the side.
Kids Trays
Chicken Tenders $7
Crispy chicken, tots, carrots, fresh ranch, grapes, goldfish crackers.
Healthy Chicken $6
Grilled chicken, tots, jasmine rice, carrots, fresh ranch, grapes.
Mac and Cheese $6
Mac and cheese, tots, carrots, fresh ranch, grapes, goldfish crackers.
Desserts
Ice Cream Sandwich $4.50
Fresh baked chocolate chip cookies, vanilla ice cream, oreo crumb, whip cream.
Cookies $3
Three fresh baked chocolate chip cookies.
Sides
Divine Chips and Ranch $3
French or Tots $3
Mac and Cheese $3
Side Salad $3.50
Soup of the Day Cup $3.50, Bowl $5
Beverages
Soda $3
Tea and Coffee $3
Bottled Water $2
Wine $7
Craft and Import Beer $7
Domestic Beer $5
Member discount
Springs Preserve members receive a 10 percent discount at the Divine Cafe. Platinum members receive a 15 percent discount.
Discount excludes alcoholic beverages, Happy Hour, kids menu and catering. Visit our Membership page for details.
About Divine Events
Divine Events operates the Divine Cafe at the Springs Preserve, and they are our exclusive caterer. They specialize in catering and full-service event planning for weddings, special events, corporate functions and company picnics. Most importantly, they create and implement memorable events that include delicious food served in an ambient environment by a dedicated team of experts. Divine Events is proud to be recognized by the Leading Caterers of America.
Learn more about Divine Events.