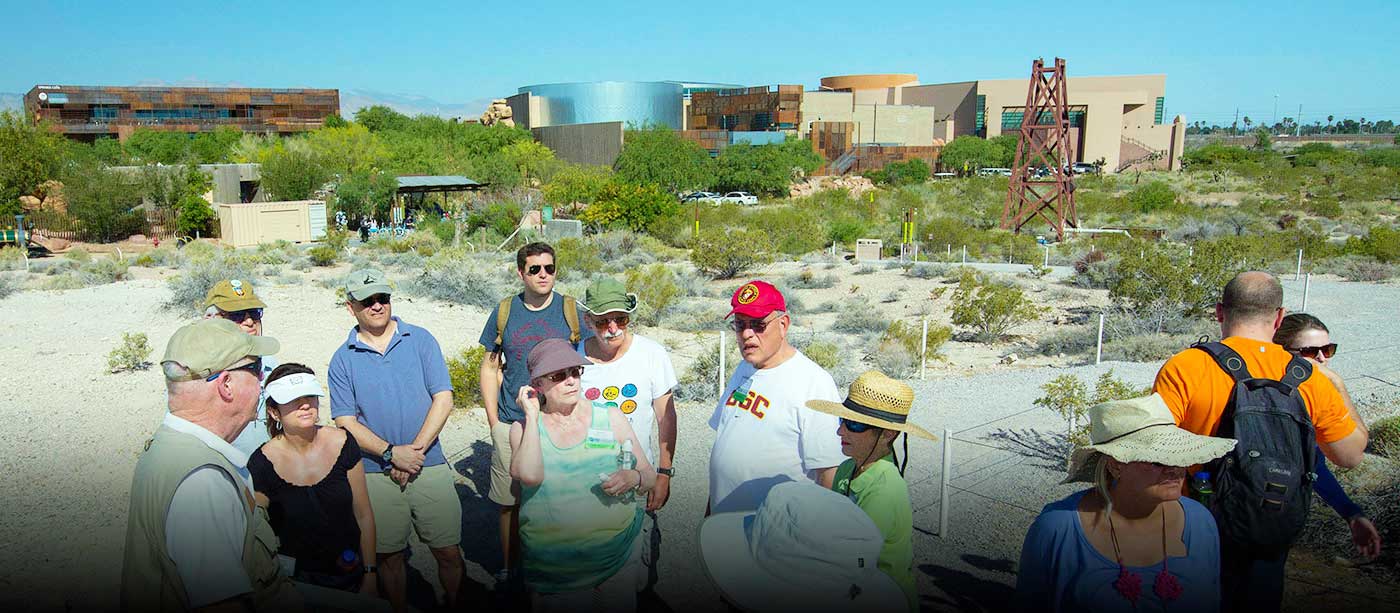 Group tours
Make your visit to the Springs Preserve even more unforgettable and book one of four guided group tours covering topics from archaeology to sustainability. Take advantage of discounted group rates and enjoy the rich culture and landscape of Southern Nevada.
Video: Archaeology Tour
Dig deeper into Las Vegas and Springs Preserve history on a personal tour with staff archaeologist Nathan Harper.
Ready to Book a Group Tour?
To schedule a group tour, complete the Group Tour Interest Form or call 702-822-8779 for more information.
Please note: Group reservations are required at least two weeks in advance and must have a minimum of 10 people.
Group tour topics
We offer four group tour topics to make your visit memorable:
Springs Preserve overview: Join one of our experienced tour guides as they present the many highlights of the Springs Preserve including its galleries, exhibits, facilities and venues. With stops at the Origen Museum galleries, the green buildings of the Desert Living Center, the lush Botanical Garden, the prehistoric archaeological sites and native wildlife habitats on the trails, the overview tour gives visitors a sampling of all the Preserve has to offer and serves as the perfect jumping off point for future exploration.
Archaeology/history: Many visitors to Las Vegas find it hard to see past the glitz and glamour of the world-famous Strip, but the archaeology tour will open you up to a much more compelling side of Sin City. Explore more than 5,000 years of history in Southern Nevada through exhibits and galleries at the Springs Preserve, as well as a visit to the Origen Museum and a short tour of the trails. Watch a video about the Archaeology/History Tour.
Botanical Garden: While the term "desert landscaping" often evokes images of cacti and tumbleweed, the Botanical Garden at the Springs Preserve will inspire you to reconsider that interpretation. The Botanical Garden tour showcases the endless possibilities available with cacti and other native plants in a lush and vibrant display. Explore ways to design a sustainable landscape for your home, extend your living space into the outdoors and experience a new way of living in harmony with our natural environment.
Sustainability: Discover why the Preserve has become an example of sustainable living as well as a resource for those interested in reducing their carbon footprint. You'll have a chance to explore the building materials used to construct the Desert Living Center, the constructed wetland that treats waste water, the solar panels in the parking lot, and the NV Energy Foundation Sustainability Gallery where you can find out how to make sustainable choices in your day-to-day life.
Group tour FAQs
For general information on parking, pets, our smoking policy and more, please see our Visitor Tips page.
Group rate tickets are available for groups of 10 or more. They may be purchased through Group Sales at
702-822-8779
. Alternatively, you may fill out our
Group Tour Request Form
and a Group Sales representative will contact you.
Your tour will be tentatively booked pending receipt of a 25-percent deposit of the estimated total bill and a signed group agreement. No reservation will be considered definite until your group has received written confirmation of the reservation from the Springs Preserve sales manager. If you do not pay the deposit by the required date, the date you have reserved will be forfeited if another group requests it.
Springs Preserve accepts Visa, MasterCard, American Express, Discover, business checks or money orders. We do not accept personal checks. All groups, regardless of the event or size, are required to pay a 25-percent deposit of their estimated bill. Deposit and payment deadlines will vary by group program.
The Springs Preserve must be notified of group tour cancellation a minimum of one week prior to the scheduled tour or the full deposit is forfeited.
Youth groups require a chaperone ratio of one chaperone per 10 children. Chaperones are responsible for the behavior of the group and must be with the group at all times. Please designate a meeting time and place at the end of your tour.
Outside food and drink is not allowed. Box lunches are available through
Divine Events
, the exclusive caterer at the Springs Preserve.