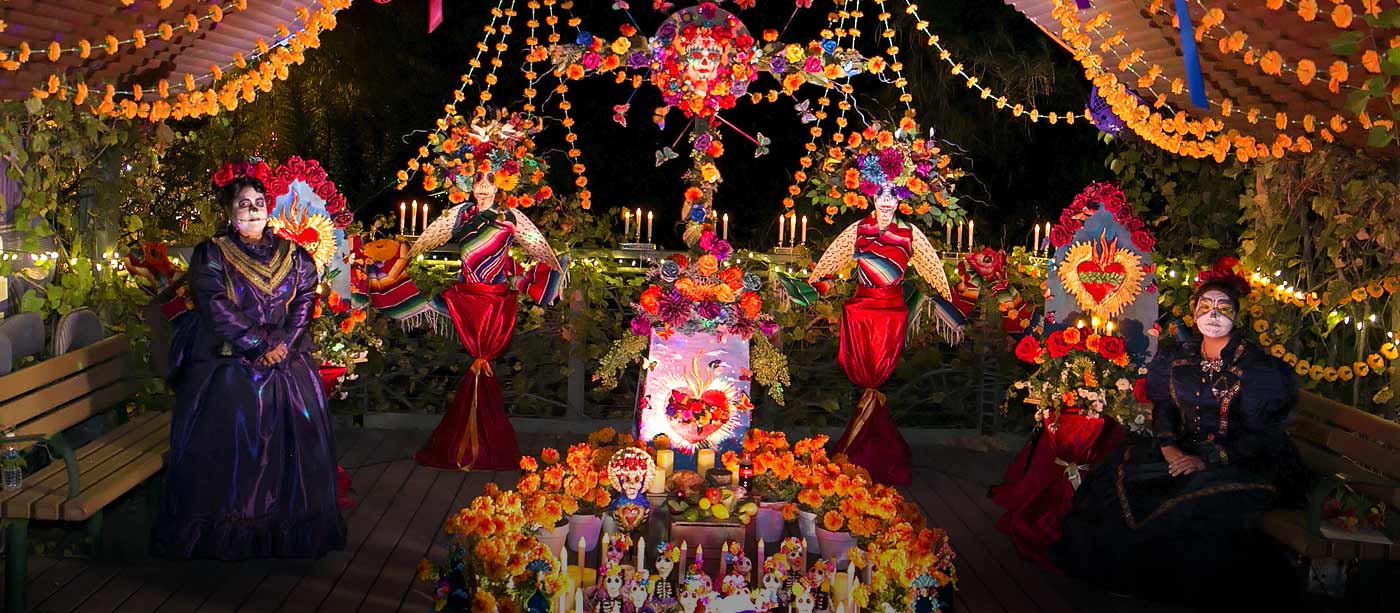 Día de Muertos
Event Information
Date & Time: Nov. 6-8, 2020, 4 to 9 p.m.
Location: Springs Preserve
Admission: Advance: $10 adult, $6 child. Day-of: $12 adult, $8 child. Individual, Family and Bronze members: $10 adult, $6 child. Silver State Pass, Gold and Platinum members receive free admission. Free for children 2 and younger.
RSVP: No reservations required. But we do recommend purchasing tickets in advance to avoid a sell-out risk.
Celebrating a centuries-old tradition rooted in Latin American cultures, the Springs Preserve will present its colorful 12th annual Día de Muertos (Day of the Dead) event.
This 3,000-year-old Hispanic celebration honoring loved ones is full of joy and tradition. This family-friendly event blends rich customs with exciting activities such as live theater and dance performances, altars, mariachis, face painting, sugar skull decorating and an art exhibition.
One of the highlights of the family-friendly celebration is the altars local residents, community groups and artists create to honor deceased relatives. Participants decorate the altars with photographs, burning candles and incense, and display favorite foods of their loved ones. Poems with fun phrases and some that make fun of death are recited to lighten the mood; also, music and dance are part of the traditional celebration.
Altar Contest
Registration for the 2020 Día de Muertos altar contest is open! Complete this form to propose your participation in the 2020 contest. No entry fee necessary. The deadline to register is Monday, Sept. 28, 2020.
Vendor Interest
If you are interested in performing or selling items at one of the Springs Preserve's signature special events, please complete the special event participation form to be added to our database.
Signature Events
The Springs Preserve hosts several annual signature special events tied into holidays, seasons and cultural celebrations. These productions provide an opportunity for the community to come together and experience the Preserve through music, art, activities, tours and concessions.
View All Events & Activities
The Springs Preserve Foundation is a 501(c)(3) nonprofit organization committed to supporting programs, projects and events at the Springs Preserve.