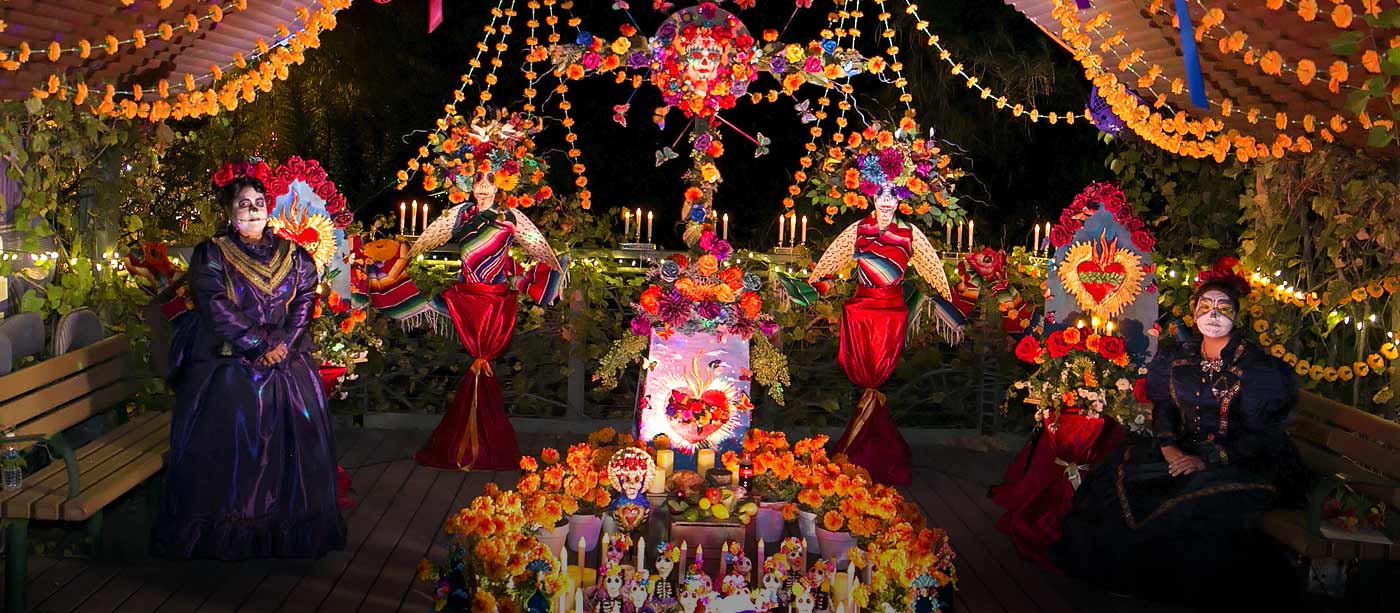 Día de Muertos
Event Information
Date & Time: Nov. 3-5, 2023, 5 to 9 p.m. Springs Preserve members get exclusive early entry beginning at 4 p.m.
Location: Springs Preserve (Free parking at the Preserve, with overflow parking at Meadows Mall)
Admission: Non-members: $15 adults, $9 children (ages 3-17). Value members: $11 adults, $7 children (ages 3-17). Donor members receive free admission. Free for children ages 2 and younger. All attendees must be ticketed for the event.
RSVP: Reservations are required. Tickets sold in advance online only. Limited attendance.
Buy Tickets
Tickets are only valid for specified date. Please ensure you've selected the correct event date before reserving.
Donor members receive free tickets for one admission date. Donor members can reserve free tickets for Día de Muertos online through Oct. 27. Once this deadline has passed, donor members must request their free tickets on-site at our Ticket Office, if tickets are still available.
Las Vegas's most authentic and largest cultural Day of the Dead event is at the Springs Preserve, Nov. 3-5 only! Celebrate life at our outdoor, family-friendly festival.
Springs Preserve members receive discounted or free admission—and exclusive early entry to the event! Become a member today.
This centuries-old celebration—rooted in Latin American cultures—honors loved ones through colorful and joyous traditions. Our event blends rich customs with exciting activities for all ages such as live theater and dance performances, music and mariachis, entertaining games, arts and crafts, food vendors, and much more.
A highlight of the event is the display of altars that local artists, residents, and community groups create to remember their dearly departed. Participants decorate the altars with photographs, poems and fun phrases, burning candles and incense, and offerings of their loved ones most cherished food and drinks. Event attendees will have the opportunity to vote for their favorite altars and the "People's Choice" winner will be announced at the conclusion of the festival.
Springs Preserve presenta el evento más cultural de Día de Muertos, una celebración llena de color y vida arraigada a la cultura latinoamericana. Este evento familiar, estará lleno de ricas costumbres, con entretenimiento en vivo, mariachis, manualidades, actividades culturales como calaveritas de azúcar, comida tradicional, venta de arte y una variedad de altares en honor a familiares y seres queridos que ya han partido.
IMPORTANTE: Los boletos solo son válidos para un día especifico. Asegúrate de seleccionar la fecha correcta antes de comprar. El cupo es limitado y los boletos están a la venta solo aquí en línea.
PLEASE NOTE: Attendees will be subject to metal detector screening.
Vendor Interest
If you are interested in performing or selling items at one of the Springs Preserve's signature special events, please complete the special event participation form to be added to our database.
View All Events & Activities
The Springs Preserve Foundation is a 501(c)(3) nonprofit organization committed to supporting programs, projects and events at the Springs Preserve.