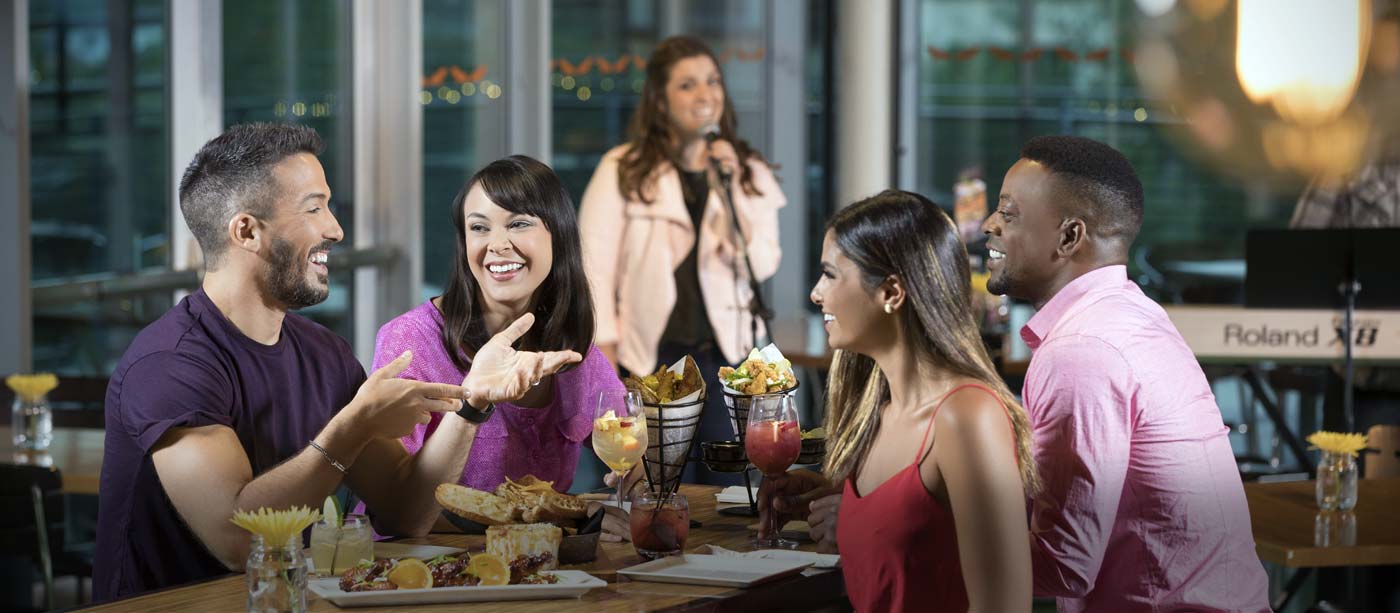 Third Thursdays at Springs Preserve
Event Information
Date & Time: The third Thursday of every month, 5pm-8pm. Upcoming date: Feb. 15
Location: Springs Preserve
Admission: Origen Museum admission is $5 for adults, $3 children (ages 5-17) and FREE for Springs Preserve members.
RSVP: No reservations required.
At Third Thursdays, join us for Divine Cafe's Happy Hour, then stay for afterhours fun and discounted admission in Origen Museum.
Divine Cafe will be featuring live music and an ever-changing specially-priced food and cocktail menu. The gift shop will also remain open during these nights so guests may shop for one-of-a kind products including educational books, games, recycled and unique gifts, clothing and Springs Preserve memorabilia.
Indie Lens Pop-up
Springs Preserve has partnered with Vegas PBS to show screenings from their 2018 Indie Lens Pop-Up series during Third Thursdays! The lineup features new documentaries that take viewers across the country and through our country's tumultuous past and present. Upcoming showings include:
Tell Them We Are Rising (Feb. 15th)
A documentary and interactive project that explores the pivotal role historically black colleges and universities (HBCUs) have played in American history, culture, and national identity. Today, over half of all African American professionals are graduates of HBCUs. More than 50% of the nation's African American public school teachers and 70% of African American dentists earned degrees at HBCUs. The film brings to a broad national audience for the first time the story of HBCUs and the power of higher education to transform lives and advance civil rights and equality in the face of intolerance and injustice.
Dolores (March 15)
This film sheds light on an enigmatic, intensely private woman who is among the most important yet little-known workers' rights activists in American history—Dolores Huerta.
Look and See: Wendell Berry's Kentucky (April 19)
A cinematic portrait of the changing landscapes and shifting values of rural America in the era of industrial agriculture, as seen through the mind's eye of writer, farmer, and activist, Wendell Berry.
Served Like a Girl (May 17)
This film follows several American women who were wounded in action and are now transitioning from soldier to civilian after serving their country in Iraq and Afghanistan. Struggling with PTSD, homelessness, broken families, divorce, serious illness, and military sexual abuse, these remarkable women harness humor to adapt to the emotional, social and economic challenges they face, through the MS. VETERAN AMERICA competition. Balancing beauty and brawn, they are guided by event founder and veteran Major Jas Boothe, using the competition to regain their identities and way of life that they sacrificed in foreign wars.
For more information or to register for a screening, please visit VegasPBS.org/indie.
View All Events & Activities
The Springs Preserve Foundation is a 501(c)(3) nonprofit organization committed to supporting programs, projects and events at the Springs Preserve.