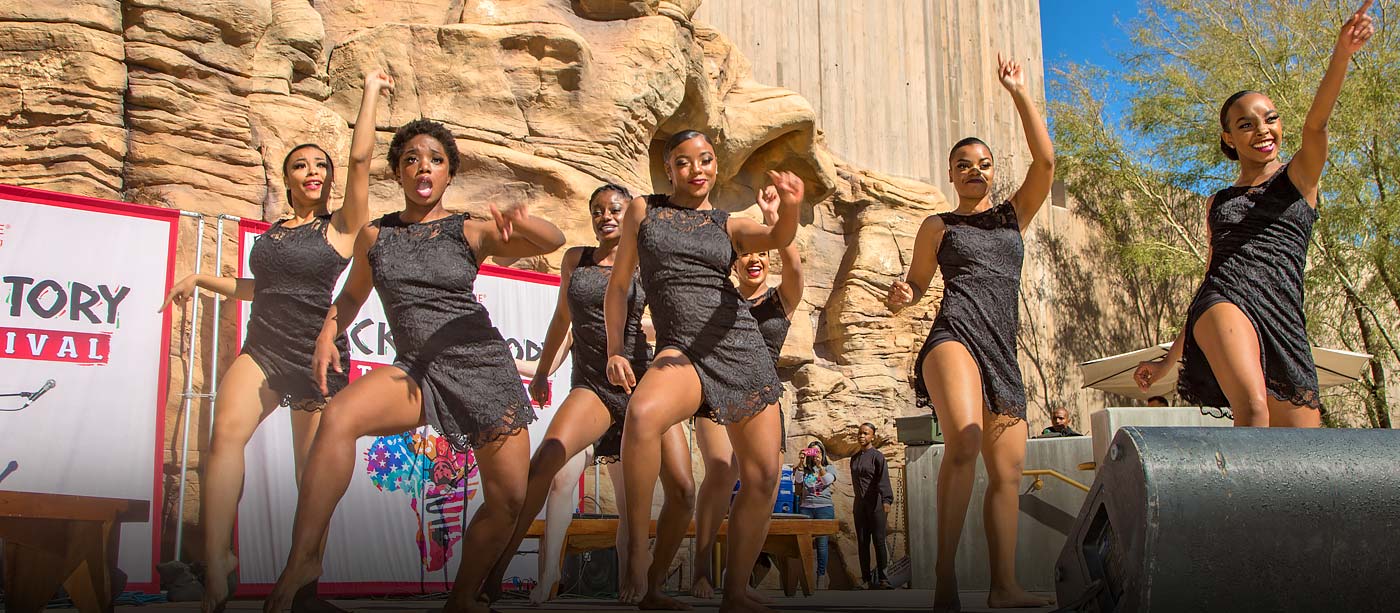 Black History Month Festival
Event Information
Date & Time: Saturday, Feb. 18, 2023, 10 a.m. to 4 p.m.
Location: Springs Preserve (Free parking at the Preserve, with overflow parking at Meadows Mall)
Admission: Non-members: Adult (18+) $9.95, Child (3-17) $4.95. Value Members/Military (*with ID)/Seniors: Adult (18+) $8, Child (3-17) $4. Free for children ages 2 and younger. All attendees must be ticketed for the event. Donor members receive free admission.
RSVP: Reservations are required. Limited tickets are available, and we encourage purchasing online in advance. Please note, attendees will be subject to metal detector screening.
Please join us on Saturday, Feb. 18, as we return to the Springs Preserve for the 14th annual Black History Month Festival. Commemorating the tremendous contributions of African-Americans to Southern Nevada's rich history and culture, this large, family-friendly festival celebrates Black History through educational activities, live music and dance performances, arts and crafts, historic photo exhibits, and delicious, authentic African-American cuisine. This year's theme is "Black Resistance."
The 14th annual Black History Month Festival will feature fun for the whole family:
Prominent speakers
Educational activities
Live music and dance performances
Arts & crafts and games for the kids
Story time
Authentic African-American cuisine
Cultural gift items for purchase
Historic Black Las Vegas photo exhibit
and much more!
Admission to the 14th annual Black History Month Festival includes free entrance to the Springs Preserve's museums and galleries, including the Nevada State Museum. Reservations are required.
Event Attendee Registration Acknowledgement
Springs Preserve will operate the Event in accordance with official federal and state government and local authority rules, following CDC guidelines and any additional venue or location-specific rules designed to mitigate the spread and contraction of COVID-19. By registering and attending the Event, you acknowledge and accept Springs Preserve's rules and regulations.
Vendor Interest
If you are interested in performing or selling items at one of the Springs Preserve's signature special events, please complete the special event participation form to be added to our database.
View All Events & Activities
The Springs Preserve Foundation is a 501(c)(3) nonprofit organization committed to supporting programs, projects and events at the Springs Preserve.