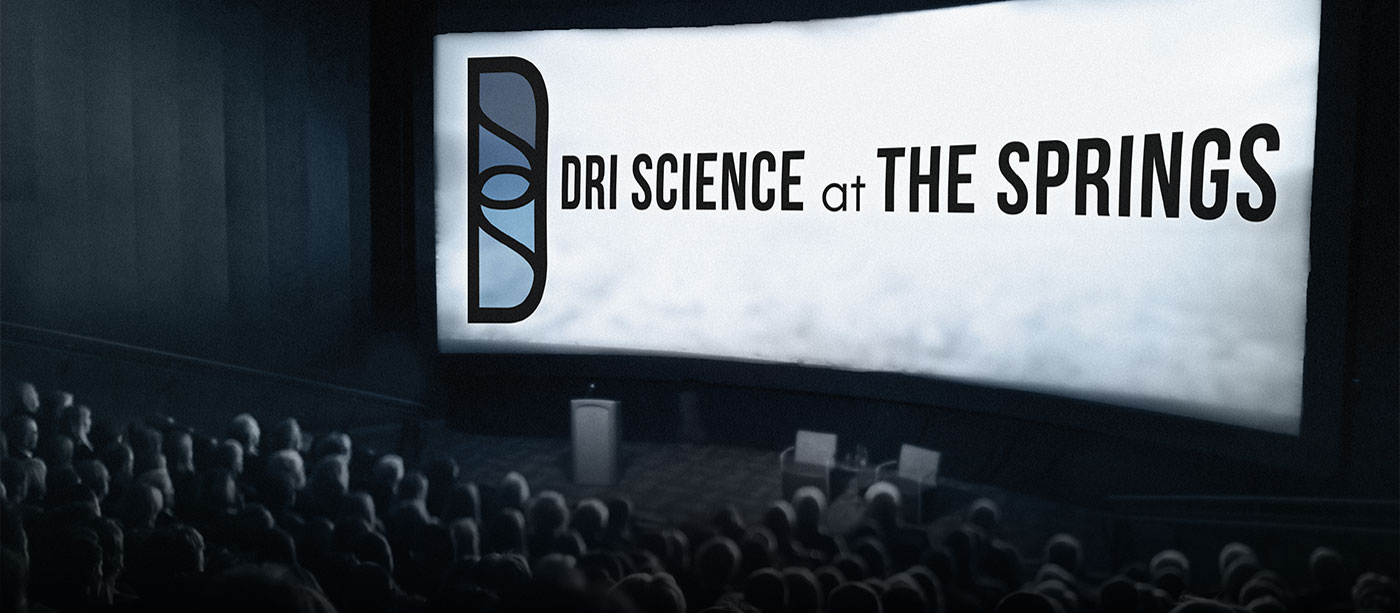 DRI Science at the Springs
Event Information
Date & Time: Select Thursdays: June 15, Aug. 24 and Oct. 5 from 6:30 to 8:30 p.m.
Location: Origen Museum
Admission: $25 non-members, $20 value members, $15 donor members. (Gold and Platinum donor members receive a free pair of tickets to one of the four events).
RSVP: Reservations are required. Limited seating available.
DRI Science at the Springs is a new multimedia, science storytelling series that explores environmental research, personal narratives, and climate solutions. In the series, Desert Research Institute scientists and other guests address some of the world's most urgent concerns, while also telling the tale of what it means to live in Nevada on the front lines of a changing climate.
Please note: DRI Science at the Springs is an adult-only (21 and older) event.
There will be a no-host beer and wine bar and fresh-food, small bites for purchase. Food and beverage are not included in the ticket price.
Gold and Platinum donor members: To request your complimentary pair of tickets to one of the series events, please contact Member Services at
702-822-7720
. You may purchase additional single event tickets at the discounted price using the "donor members" options below.
The Art of Science (Thursday, June 15 from 6:30 to 8:30 p.m.)
Guests will have exclusive access to the Earth Matters exhibit prior to the presentation!
This evening is designed to highlight the intersection of creativity and science, and explore how the two often seemingly antithetical disciplines can lead to some of the most beautiful, innovative and impactful solutions. This is a one-of-a-kind opportunity to broaden your understanding of the world and the role that science and art play in shaping it. You'll leave the event with a deeper appreciation for the beauty that can be found in the scientific process, and how it can inspire us all to think more creatively about the world around us.
Doors open at 5:30 p.m. Presentation begins at 6:30 p.m.
History Written in Ice (Thursday, August 24 from 6:30 to 8:30 p.m.)
This evening is dedicated to exploring the incredible story of ice core researchers and their journey to the arctic to extract ice cores that hold within them evidence of past societies, volcanic eruptions, and even plagues. You'll learn about the incredible lengths that researchers go to in order to extract these cores, the technological advances that have made this work possible, and the impact that their discoveries have had on our understanding of history.
Doors open at 6 p.m. Presentation begins at 6:30 p.m.
Beyond the Horizon (Thursday, October 5 from 6:30 to 8:30 p.m.)
In this final event in our season, DRI Science at the Springs departs from Earth and takes you on a journey to explore the beyond. Join our speakers as they share stories and research of hitchhikers on the International Space Station, how a symbiotic relationship between a fungus and bacteria might be the key ingredient in developing a sunscreen for the Red Planet and more.
Doors open at 6 p.m. Presentation begins at 6:30 p.m.
The following events have passed.
The Water Toolkit (Thursday, April 20 from 6 to 9 p.m.)
As society grows increasingly concerned about the future of our water resources, DRI Science at the Springs offers a refreshing perspective. Instead of merely adding to the chorus of worry, we invite you to join us for an unforgettable multimedia and storytelling experience that highlights the innovative research and solutions being implemented to address this pressing issue. From the science of cloud seeding and the importance of urban forestry to the vital role of irrigation, this inaugural event is a unique opportunity to be at the forefront of the conversation about water and its future.
View All Events & Activities
The Springs Preserve Foundation is a 501(c)(3) nonprofit organization committed to supporting programs, projects and events at the Springs Preserve.