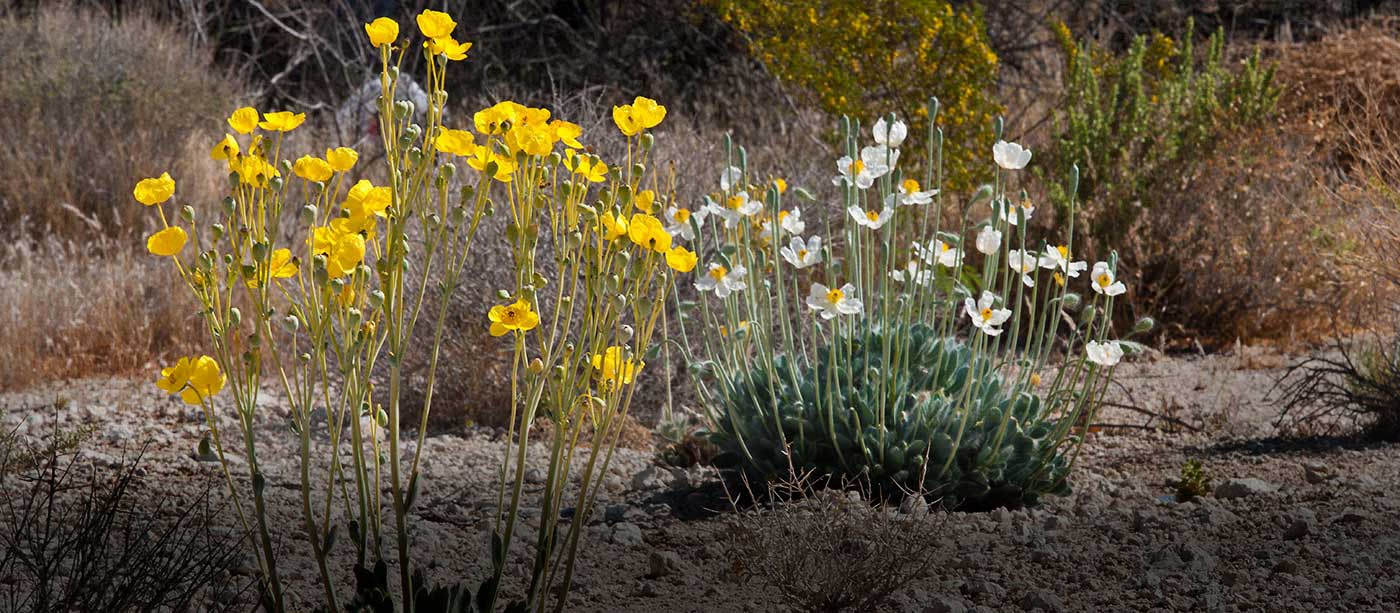 Rare plant research
The urban environment of Las Vegas today surrounds a unique diversity of plants and animals found at the Springs Preserve.
However, after decades of agricultural and urban development, dozens of plants and animals in Southern Nevada are considered rare, driven to the brink of extinction by expansion, off-road-vehicle use and other recreational activities. One of the Springs Preserve's goals is to study and help these rare Mojave Desert species survive these obstacles.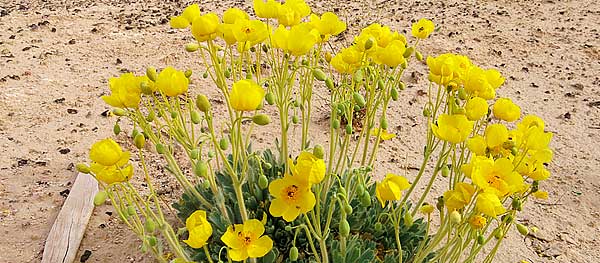 Las Vegas bearpoppy (Arctomecon californica)
The Las Vegas bearpoppy, which grows only in the Las Vegas area, was discovered at the Springs Preserve in 1988 and has been listed as "critically endangered" by the State of Nevada. Federal, state and local agencies and entities are working together to ensure its protection and long-term conservation.
All bearpoppy populations at the Springs Preserve are fenced to protect the species and its habitat. It grows in two distinct areas within the Springs Preserve's boundaries. The Preserve has conducted several germination trials on the Las Vegas bearpoppy, which were initially successful but the plants failed to thrive. We will continue our efforts to unlock the mysteries of growing this fascinating and beautiful plant.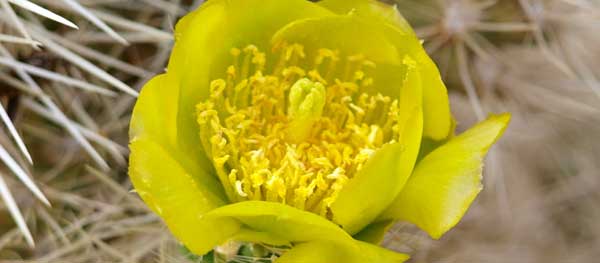 Blue Diamond cholla (Cylindropuntia multigeniculata)
The Blue Diamond cholla is a shrubby cactus with short spiny joints found primarily in the Blue Diamond Hills of the Spring Mountains in Clark County, Nevada. This small cactus grows up to two feet tall and is quite long lived.
The Federal Bureau of Land Management considers this plant to be a sensitive species. Specimens of the Blue Diamond cholla are on display in our Mojave Cactus Collection.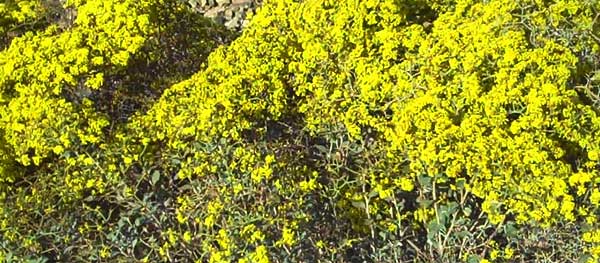 Las Vegas buckwheat (Eriogonum corymbosum var. nilesii)
The Las Vegas buckwheat can only be found in Clark and Lincoln Counties in Nevada at elevations between 656 and 2,789 feet. It is a mounding perennial shrub that can grow to four feet tall and wide with masses of fragrant yellow flowers from September to November.
The Federal Bureau of Land Management considers this plant to be a sensitive species. Several large specimens were salvaged and successfully transplanted to the propagation facility at the Springs Preserve. Seed collected from these plants have been grown, transplanted into the Botanical Garden and the two Las Vegas bearpoppy communities at the Springs Preserve, and sold at plant sales. Learn more about the Las Vegas Buckwheat.