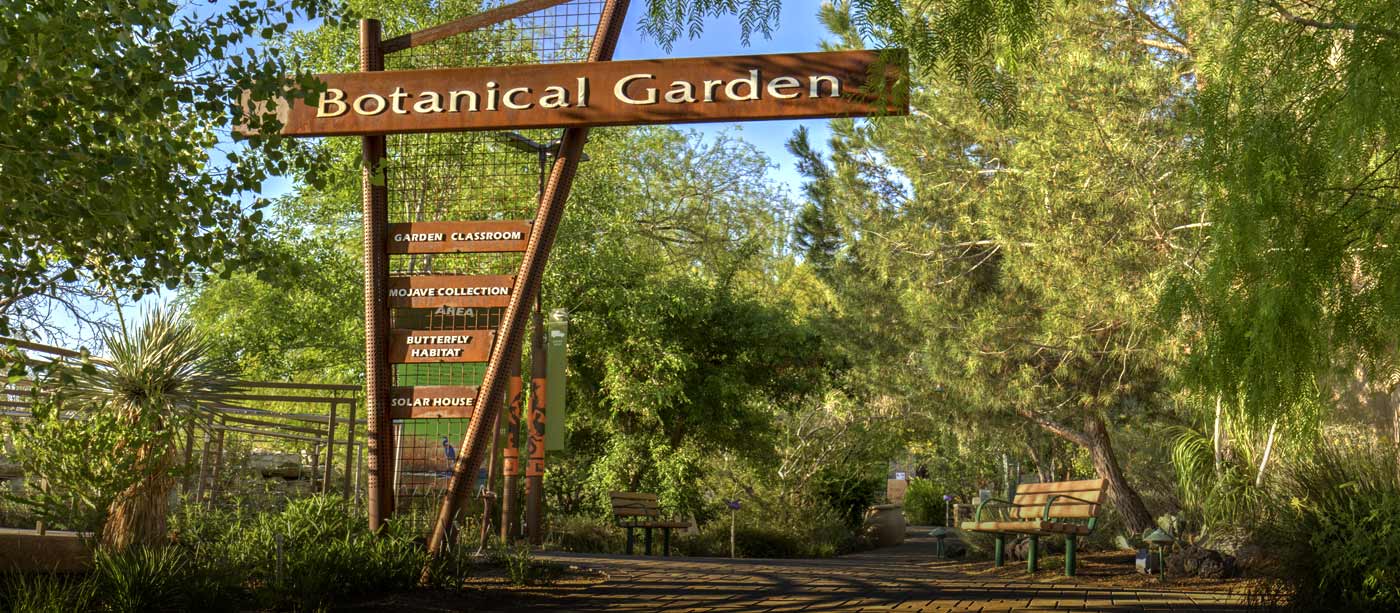 Botanical Garden
With thousands of Mojave Desert and desert-adapted plants, the Botanical Garden at the Springs Preserve provides an inviting oasis and inspiration for Las Vegas residents and visitors alike. The Preserve's collection received the Award for Garden Excellence from Horticulture Magazine and was named one of the "Top 10 North American Gardens Worth Traveling For" at the Garden Tourism Awards.
Botanical Garden collections and features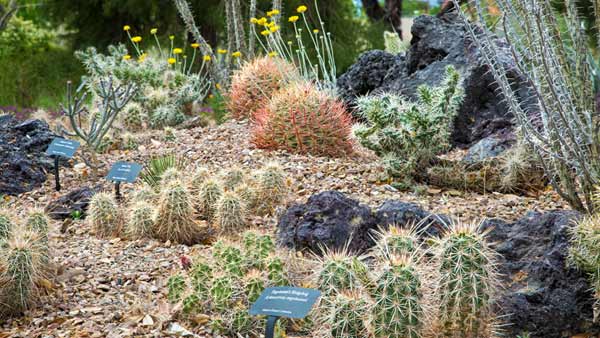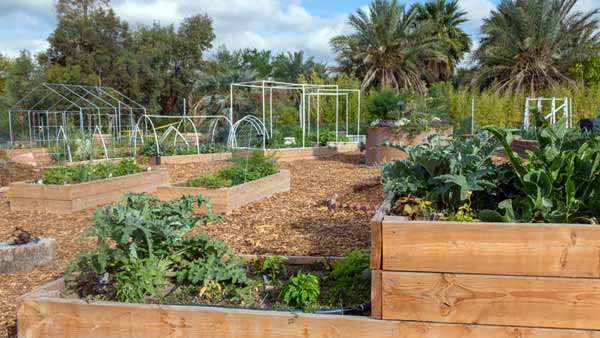 Teaching Garden
The Teaching Garden is an active, outdoor learning laboratory where students and educators can learn the ins and outs of successful gardening in the desert Southwest. Classes and workshops are available for those who wish to learn how to garden using natural elements to plan, plant and maintain a healthy garden, while being responsible stewards of our environment. The Teaching Garden is made possible through a grant from The Rogers Foundation.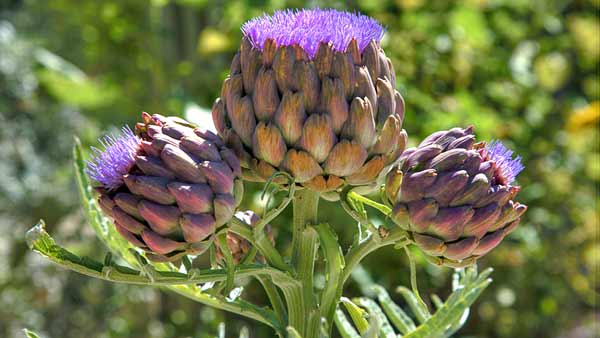 Vegetable Garden
Serving as a living demonstration of when and how to grow which vegetables in the desert, the Linn Mills Vegetable Garden features seasonally appropriate crops grown in raised planters. In the spring and summer, you'll find tomatoes, peppers, eggplant, beans, and more, while in the fall, we grow lettuce, spinach, cabbage and other cold season crops. Check out Events & Activities calendar for any upcoming vegetable gardening classes.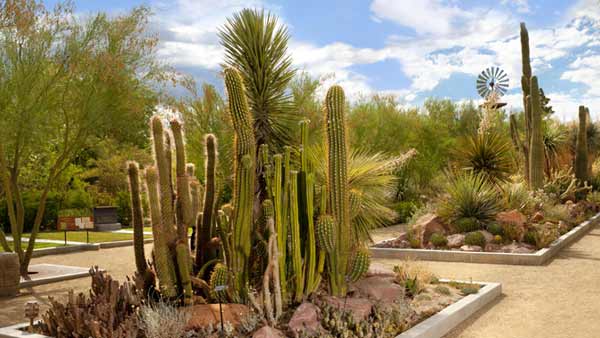 Cactus Alley
Cactus Alley features examples of cacti and succulents from the arid regions of North and South America, including the Mojave, Great Basin, Sonoran, Chihuahuan, central Mexican, and South American deserts.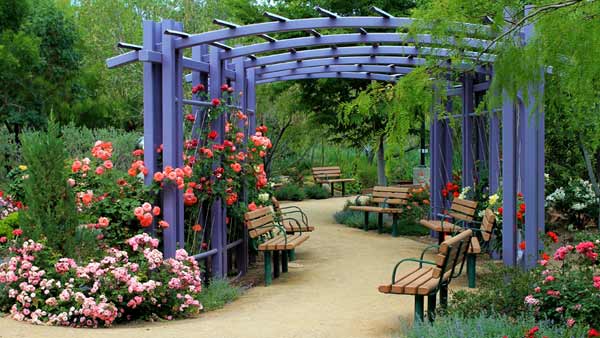 Rose Garden
With its centerpiece trellis, the Rose Garden provides a beautiful location for shade, reflection, and photo opportunities. With a diverse display of rose varieties, there is something blooming nearly year-round!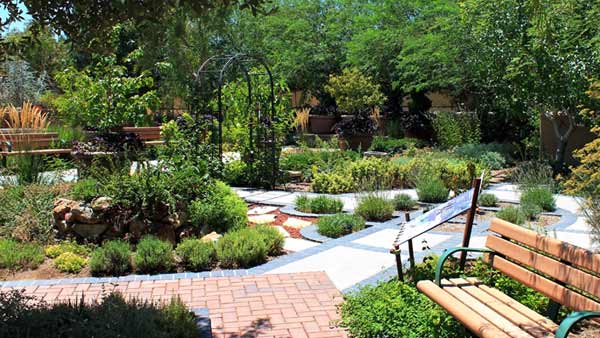 Herb Garden
The Herb Garden features plants that have been used for centuries by people in cooking, medicine, cosmetics and decoration, as well as fruit and nut trees. The spring and early summer are the best times to check out the herb collection, which includes thyme, lavender, oregano, marjoram, bay leaf and rosemary.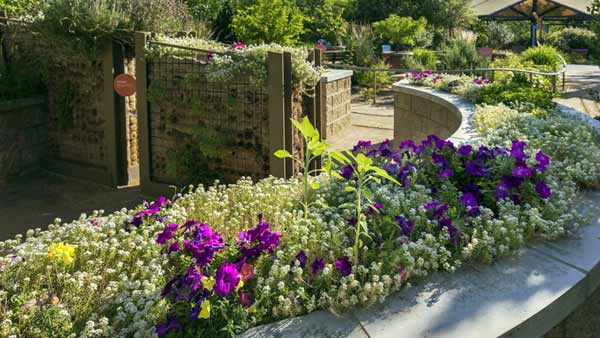 Enabling Garden
Highlighting gardening techniques that can aid gardeners with physical challenges, the Enabling Garden features vertical planting walls, raised planters, and shallow pans.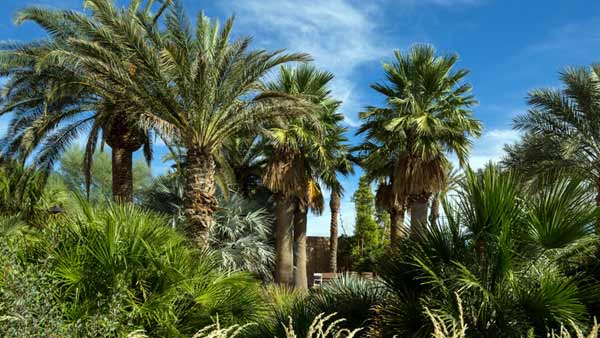 Palm Garden
Although no palms are native to the Las Vegas area, our palm garden features nine species that thrive in our conditions, including edible date palms.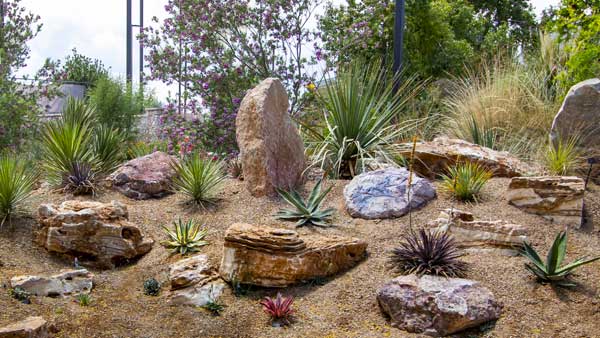 Desert Gems Garden
Featuring rare plant species, stunning colors, and dazzling plant-groupings, the Desert Gems Garden is a brilliant example of the sustainable, outdoor splendor achievable in our desert region.
Deserts of the World
This collection features various species of cacti and succulents from all five of the world's major deserts, including unique varieties you won't find anywhere else at the Preserve!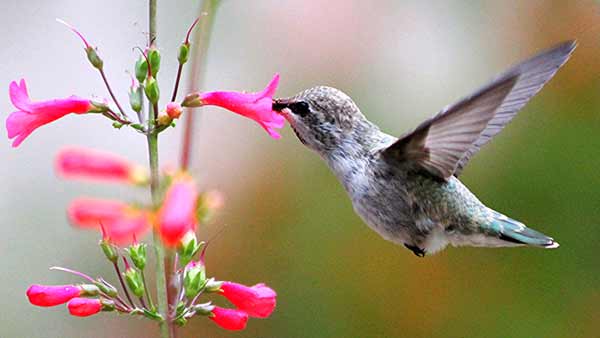 Wildlife Garden
Located next to the wetland, the Wildlife Garden features numerous pollinator-attractors like Salvia, Penstemon and Tecoma to attract and feed hummingbirds, while butterfly bush, milkweed and blanket flower attract butterflies. The night-blooming evening primrose attract moths in the early morning and late afternoon.
Natural Area and Trails
The Natural Areas at the Springs Preserve can be found along 3.6 miles of trails that meander through 110 acres of native habitats and archaeological sites, all representing the "birthplace of Las Vegas"—the site of the Las Vegas Springs. From the Cienega to the Mesquite Bosque, there's plenty to see along our trails. Learn more about the trails at the Springs Preserve.

Seasonal gardening tips and tricks
Our team of horticulturalists have tips for keeping your landscape beautiful, and water-smart! Press play to learn more.
Want to ensure you have a colorful garden for the holidays? Fall is the perfect time to add petunias, pansies, calendulas and even ornamental kale or cabbage to your yard. You'll see brilliant purple, white and green colors as temperatures cool.
October is the perfect time for planting trees and shrubs, giving the roots plenty of time to anchor themselves.
As temperatures start to cool, begin tapering off your watering schedule for cactuses and succulents.
Begin planting cool-season vegetables like beets, carrots, lettuce, chard, cabbage and cauliflower to ensure better growth and taste. This also is a great time to plant herbs including chives, fennel, mint, oregano, rosemary, sage and thyme in a permanent spot in your garden or apply nitrogen to an existing herb garden.
Keep on top of your garden in the cooler months to prevent unexpected problems. When winter weeds emerge, hoe or pull them out—weeds and other plant debris become excellent hibernating areas for insects and diseases. Put the weeds that haven't gone to seed to work by composting them and reusing them in your garden.
Start a compost pile with dead vegetables, flowers and other plant debris. Shred and moisten it for faster breakdown.
Infuse a burst of color into your landscape by planting annuals or perennials, but be sure to enrich your soil with plenty of organic matter and balanced fertilizer to give them a good start.
Continue building up your vegetable garden after danger of frost has passed by planting beans, tomatoes, sweet corn, cucumbers, peppers and eggplants.
Condition your plants by watering them deeply but infrequently to encourage deeper roots. Fertilize plants before the summer heat arrives.
This is a great time to plant agaves, yuccas and cactuses.
Prune trees and shrubs to remove unwanted growth. Hire a professional for larger shade trees. This is also a great time to fertilize container-based fruit trees.
Pumpkins, squash, cantaloupes, watermelons, okra and sweet potatoes should be planted in your vegetable garden at the beginning of summer. This also is the time to pull your winter plants (carrots, onions, beets, etc.) to keep them from seeding.
The time to groom your cactuses and succulents is during the warm summer months. Remove any damaged or diseased plant material using sterilized, sharp pruners to ensure a clean cut. Always make cuts at joints to keep plants looking lush.
Add mulch to shrubs to decrease evaporation and keep roots cool.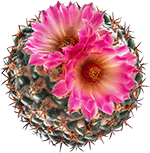 Find plants
Selecting plants for your landscape can be overwhelming. And once you've purchased and installed your new plants, how are you supposed to keep their individual care straight?
Our plant search tool, presented in partnership with the Southern Nevada Water Authority, takes the guess work out of plant selection and care for you. Simply search or browse hundreds of plants to find exactly what you're looking for. 
Search for Plants
Ask the Desert Gardener
Have a sick plant, horticultural mystery or landscaping question? Send your gardening quandary to our Desert Gardener. We accept photos!
Submit a Question
Classes and workshops
The Springs Preserve not only provides a place for quiet contemplation, but also for formal learning! Classes help local residents and plant enthusiasts adapt to the challenges of desert gardening and enjoy the rewards of dynamic designs.
View Upcoming Classes

Plant preservation
Preservation is part of the Botanical Garden's story, too! Nearly all of the native and cacti and yucca species on the grounds were rescued from local lands that were being developed for residential or commercial use. More than 400 mature trees and plants, some 20 years old and more than 30 feet tall, were transplanted to the Botanical Garden and throughout the Preserve.
The Mojave native plants on display were grown from cuttings collected in the Las Vegas Valley, making the plants genetically true and better adapted to the climate.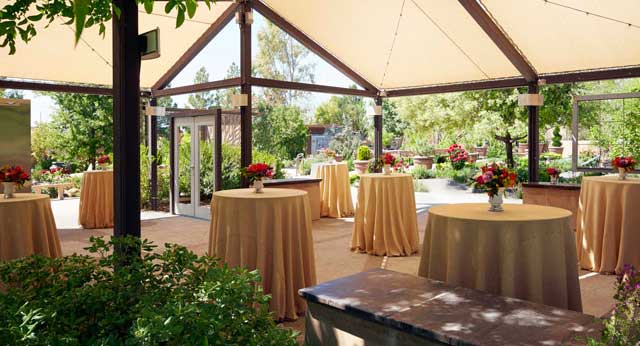 Botanical booking
Host an event in our beautiful Botanical Garden! Ready to reserve? Have a question? Submit our Venue Rental Request Form or call us at 702-822-8779.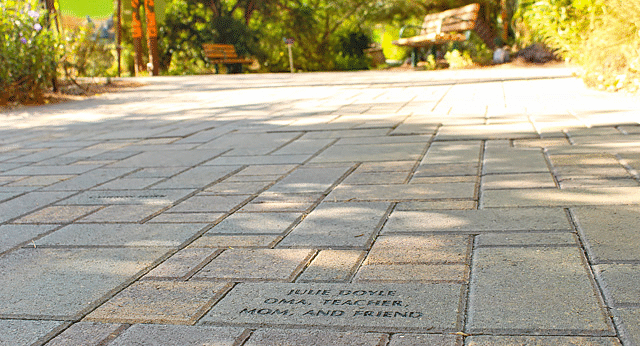 Leave your legacy
Our engraved, personalized pavers make wonderful and enduring birthday, anniversary, tribute or memorial gifts. Installed in the Botanical Garden, these commemorative stones will be seen by Springs Preserve visitors from around the world.