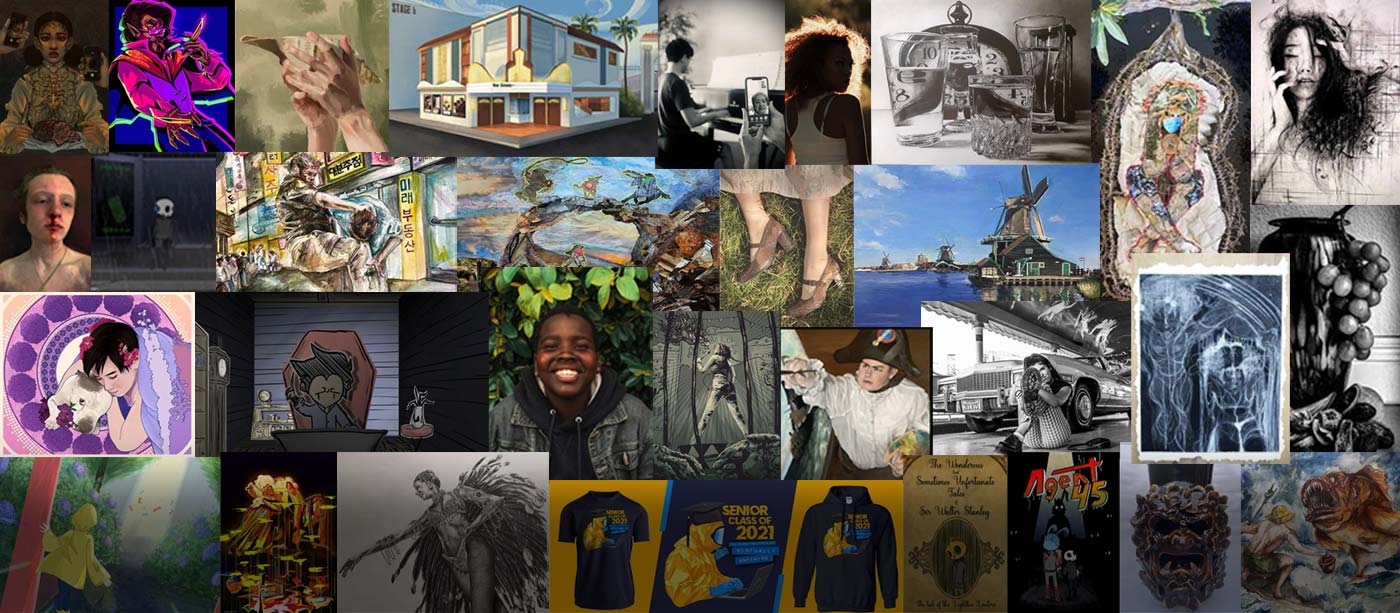 2021 Scholastic Art & Writing Awards
Event Information
Date & Time: Jan. 27-March 31, 2021
Location: Virtual (Exhibit available online only at SpringsPreserve.org.)
Admission: Free
RSVP: No reservations required.
Now in its 98th year, the Scholastic Art and Writing Awards recognizes the outstanding achievements of middle and high school students in art and writing. Students' submissions are rigorously judged on originality, personal vision and technical skill. Only about one-third of the submissions receive awards. Students winning in the Southern Nevada region may also be eligible for scholarships or other awards when they are forwarded to a national jury for awards to be handed out in the spring. Notable alumni of the program over the years include Sylvia Plath, Truman Capote, Andy Warhol, Kay Walking Stick and many more.
Students receiving awards can win a Gold Key, Silver Key or Honorable Mention. From the list of Gold Key winning works, local judges nominate five of their favorites across all categories for American Visions Nominees (art) or American Voices (writing). These nominees are sent to a national panel of judges who choose a Best-In-Region winner for each—much like a Best-In-Show award.
Because of the COVID-19 pandemic, the Springs Preserve is hosting this virtual version of our annual exhibit of student work, with several categories under art and writing each. Congratulations to all of the students, all of whom are encouraged to submit entries again next year if they are eligible.
Art Categories
Click the links below to see the art and awards in each category.
Writing Categories
Individual awards are listed here. Scroll below to read the winning pieces.
Portfolios represent graduating seniors only, with up to six works by each artist or author, including individual submissions.
Note: Some of the work contains mature themes. Parental discretion is advised.
Students can log into their Scholastic accounts beginning on January 28, 2021 to view their awards and print certificates. If you have any questions, please contact Aaron Micallef at 702-822-7741.
Thank you to our many judges who spend countless hours judging student work and who make this program possible: Abigail Phillips, Halina Adams, Debra Berry, Kimmie Bester, Pamela Bosch, Elaine Bunker, Adam Burgess, Thelma Davis, Renee Grayson, Karin Ekanger Green, Sandra Elliott, Kei Fuller, Michael Kearns, Geoff Kenmuir, Mike Kimball, Marilyn McKinney, Aaron Micallef, Amy Montz, David O'Neil, Anthony Rintala, Emmi Saunders, Brendan Shapiro, Fran Smith, Lisa Story, Dick Theis, Nancy Tufano and Carly Williams.
This exhibit is supported by the generous contributions of our sponsors:


Get Acrobat Reader to view, navigate, and print PDF documents.
View All Events & Activities
The Springs Preserve Foundation is a 501(c)(3) nonprofit organization committed to supporting programs, projects and events at the Springs Preserve.