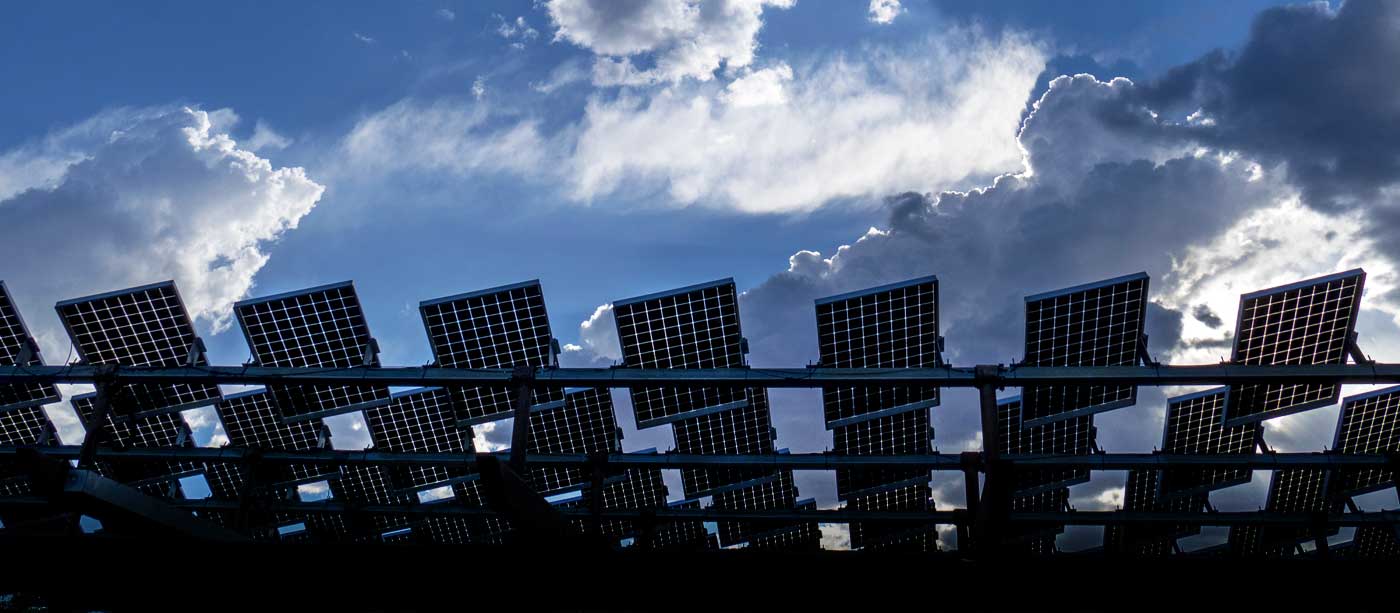 Sustainability
The entire 180-acre Springs Preserve campus is a living example of sustainable living, design and architecture. Our buildings are among the most "green" in the nation.
Video: Sustainable Everyday
Sustainability is in our nature, mission and design at the Springs Preserve, and yet we're still taking pains every day to practice, preach and prove the value of conserving.
Video: Charging Stations
Have an electric car? Visit one of the electric vehicle charging stations in our main parking lot! Our charging stations are green-powered by onsite solar facilities.
Video: Sustainability Tips
Adopting our practices of sustainability in your own life will make the world an even better place for everybody.
LEED Certification
Our Origen Museum, Guest Services building and the five buildings that comprise the Desert Living Center meet Platinum Leadership in Energy and Environmental Design (LEED) requirements created by the U.S. Green Building Council.
Design Elements: Buildings at the Preserve are positioned to use natural lighting, collect solar power to heat floors and water, and contain only low energy north and south facing windows. Structures have been designed to take advantage of natural ventilation and several make use of entryway overhangs and patio microclimates. Butterfly roofs on some buildings help collect storm water for reuse.
Reused Materials: Throughout the Preserve buildings, recycled materials provide both structure and design. The Desert Living Center features supporting structural elements made from timber reclaimed from the Lucin Cutoof Trestle Bridge, which trains used to cross the Great Salt Lake until the 1950s. The Preserve also features carpet made from recycled plastic bottles and corn husks, furnishings made from recycled sunflower seed husks, and countertops made from recycled paper.
Sustainable Materials: Two of the Desert Living Center buildings, which total more than 41,000 square feet, make the Preserve the largest commercial straw bale construction project in the United States. The Preserve used many locally-sourced materials during construction of the project, including caliche exhumed onsite and rammed earth used to cover concrete stem walls.
Operations: A bio-filtration wetland area recycles water from the Springs Preserve facility to irrigate plants and flush toilets. More than 2,200 photovoltaic arrays provide covered parking and generate power for the site. Evaporative cooling towers naturally funnel cool air into the Desert Living Center.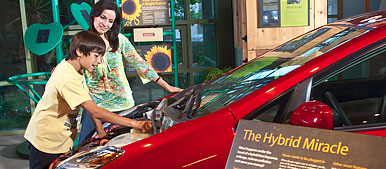 NV Energy Sustainability Gallery
At the NV Energy Foundation Sustainability Gallery, visitors can learn about living a more eco-friendly lifestyle through a bevy of interactive exhibits, children's play areas and even an entire house full of sustainable appliances, fixtures and décor. Explore a simulated Las Vegas neighborhood, making your way through areas focused on recycling, composting, alternative energy, sustainable construction and water conservation. Along the way, "Smart Shopper" kiosks help you learn more about making informed choices for a greener home and planet.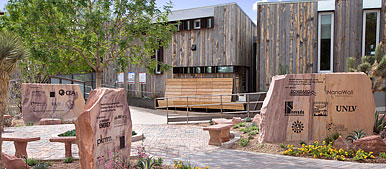 DesertSol
DesertSol is a 754-square foot solar-powered home that was created and built by the UNLV Solar Decathlon Team, as part of the U.S. Department of Energy Solar Decathlon 2013. It is an ultra-efficient model home that showcases innovations in sustainable home design including technology, energy and material choices, and uses solar energy as its only fuel source.
Classes & Workshops
Classes and workshops offer focused instruction on topics such as composting, gardening and water-smart landscaping. In the Botanical Garden, visitors can be inspired by thousands of desert-friendly plants, a bio-filtration wetland area and demonstrations of sustainable gardening practices. To find a class, visit our Events & Activities calendar.
Green Meetings
The adaptable conference space at the Desert Living Center has become a popular place for green-minded individuals and organizations to host events, meetings and social gatherings. Our mission at the Springs Preserve is to teach and encourage sustainability, and we will do everything we can to help you reach a "green meeting" goal if that's what you're striving to achieve. For more information, please visit our Corporate Events page.
Sustainability in Action
The Sustainability in Action Report for the Springs Preserve, Las Vegas Valley Water District and Southern Nevada Water Authority details the efforts we're making to reduce our environmental impacts, and it helps serve as a guide to working in a more environmentally conscious way.
Our Environmental Policy
The Springs Preserve is committed to operate in an environmentally sound and responsible manner, protect the natural and cultural resources in its care, and serve as a model of stewardship for the community. Through the implementation of the organization's environmental management system, the Springs Preserve will:
Engage our staff, volunteers and visitors in our commitment to honor and protect our environment; and
Empower staff, volunteers and visitors with the tools, resources, and knowledge necessary to provide a more sustainable future for the community we serve.
We are committed to:
Protection of the environment, including the prevention of pollution, by reducing our impacts to air and water, reducing/reusing solid waste, and embracing in our decision making process the environmental impacts associated with our operations;
Ensuring the continual improvement of both our Environmental Management System and our environmental performance;
Meeting or exceeding all applicable compliance obligations to which the organization subscribes; and
Creating public awareness by connecting audiences to environmental conservation and sustainability issues; inspiring respect and appreciation of the natural world; and empowering audiences to make informed decisions.
The Springs Preserve's Environmental Management System (EMS) provides a framework for identifying, evaluating, managing and improving our environmental performance. I encourage employees in all areas of the Preserve to contribute to implementing strategies to help achieve the goals embodied in the EMS. View or download the full Environmental Policy.