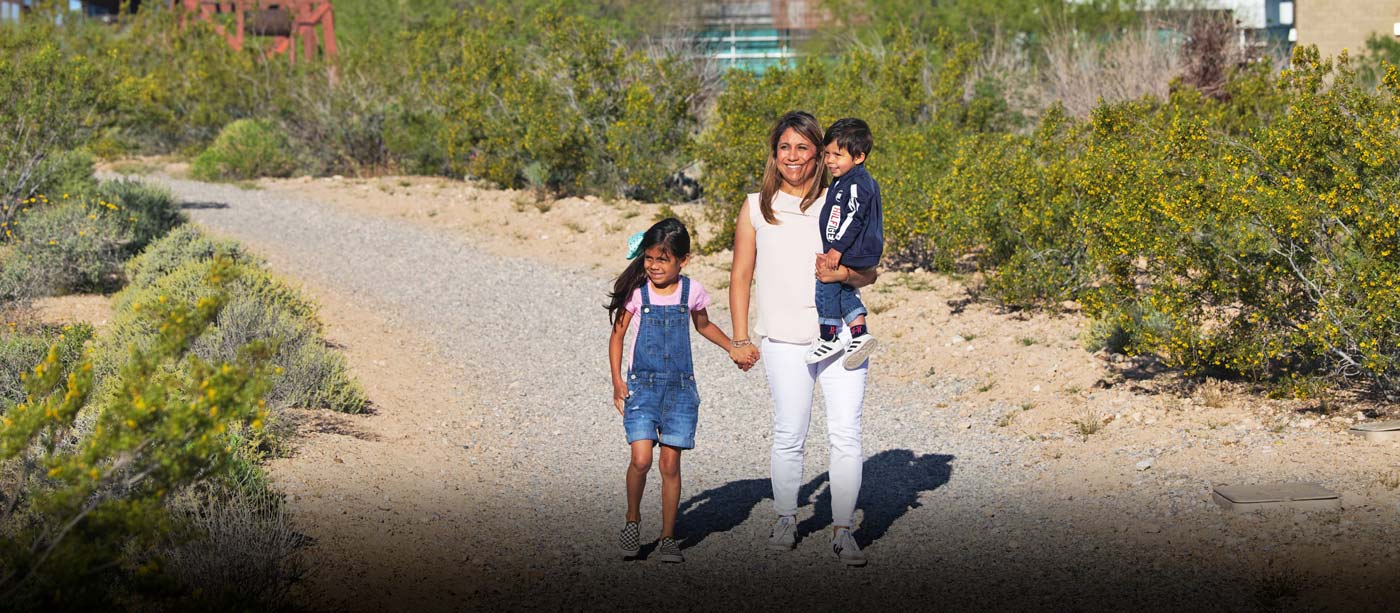 Trails, train rides & bike rentals
Come see where Las Vegas began. As you walk, bike, or ride the train through the Springs Preserve's 3.5 total miles of trails and meander through 110 acres of native habitats and archaeological sites, you will follow in the footsteps of adventurous explorers and ancient peoples.
Current hours and admission
Current hours are Friday through Monday from 9 a.m. to 4 p.m. (Last entry at 3 p.m.) Members get early entry at 8 a.m.
Visitor capacity will be reduced per hour and all visitors must purchase or reserve a timed ticket online in advance.
For the safety of our guests, the trails will close and our train will not operate when excessive heat warnings of 105 degrees or more are issued by the National Weather Service.
Trail loops
Exploration Loop Trail: Beyond Boomtown 1905, discover interpretive stations that reveal how the Springs Preserve and our valley first came to life. History, pioneers, culture, nature…it's all here. Take a break at Cottonwood Grove! Fully paved, multi-use road, wheelchair accessible.
Cienega Trail: See lush desert wetlands and cottonwood groves. Enjoy bird watching, animal sights and sounds and rustling reeds. Loose gravel.
Crossroads Trail: See an adobe home foundation, well derrick and prehistoric spring mound. Enjoy great views and Joshua trees. Loose gravel.
Springs Trail: See historic structures and restoration areas, then meander through a tortoise habitat. Enjoy learning about this land's early settlers. Paved and gravel areas.
Sites of interest
Along the trails, a wealth of evidence reflects not only thousands of years of local history, but major historical themes of the American West. Native American peoples, European exploration and settlement, ranching, railroads and of course, water, have all shaped what you will see on your journey. Particular sites of interest include: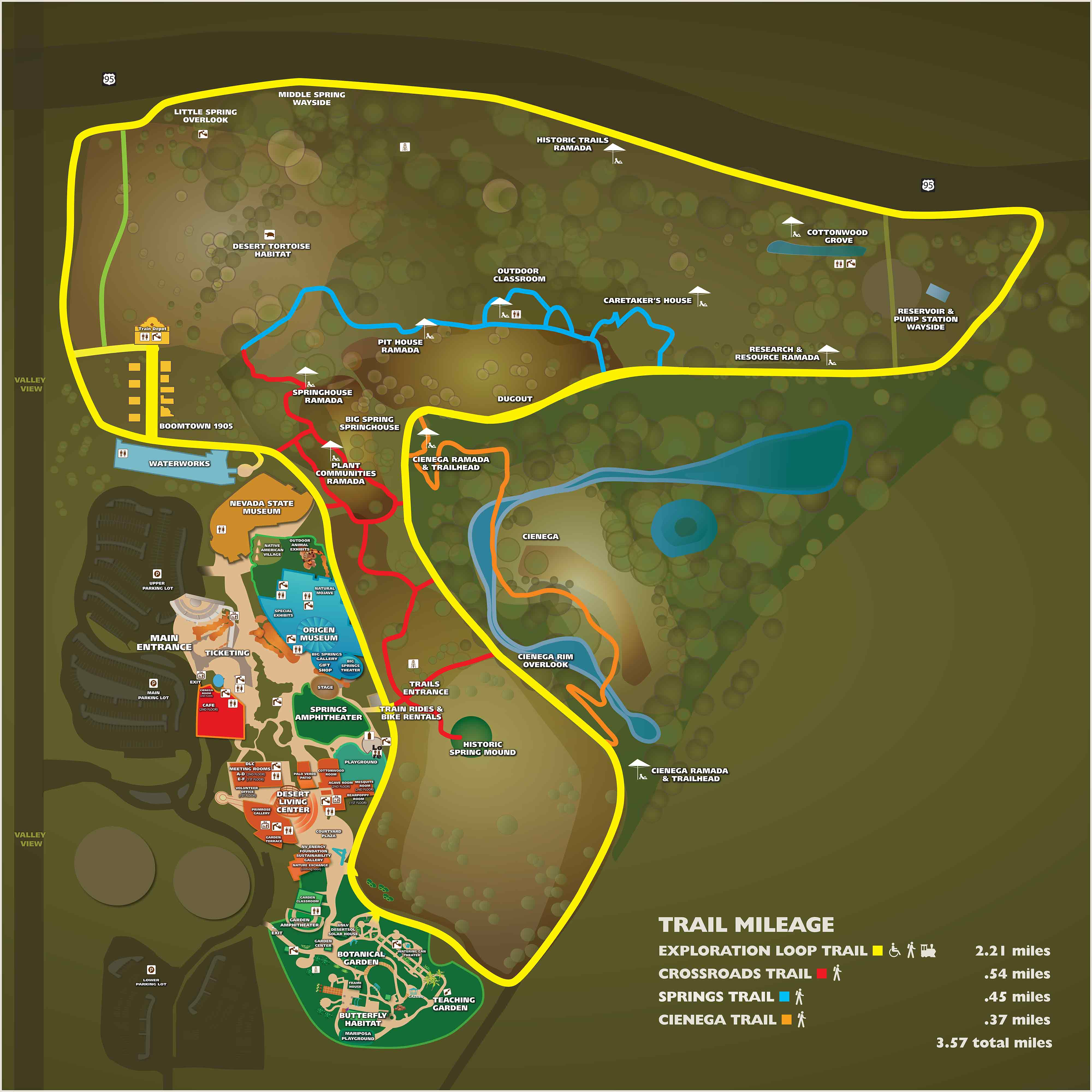 Ways to explore the Springs Preserve trails
Not up for walking the trails? We offer train rides and bike rentals!
Train rides
For the safety of our guests, the train will not operate when excessive heat warnings of 105 degrees or more are issued by the National Weather Service.
Trains helped settle the Old West, and now they're a piece of the present, too! Take a 20-minute narrated ride down the Preserve's 2.2-mile Exploration Loop Trail on our trackless train, and uncover Las Vegas history with every turn of the wheels.
Look for birds and wildlife during your journey. Themes of the American West and local history, along with ranching, water and—of course—railroads have all shaped what you'll see.
Schedule
The train schedule is subject to change based on weather, road conditions and special event availability. Call 702-822-7700 or visit the Springs Preserve ticket office for the current schedule.
Boarding passes
Free for members or included with paid admission.
Children 12 and under must be accompanied by an adult.
The trackless train is made possible in part through the generous support of the J.A. Tiberti Family and the Commission for the Las Vegas Centennial.
Bike rentals
Sorry, bike rentals are not currently available. Check back later as we continue to reopen.
Families can explore our 2.2-mile Exploration Loop Trail on two (or more) wheels with our bicycle rental program. Bike rentals are available at the Exploration Loop Trailhead, across from the Springs Preserve Amphitheater. Bikers can enjoy various historical stops, shaded ramadas and views of the cienega and natural areas on our trails.
Hours
Bike rentals vary daily based on current construction. Please check onsite or call 702-822-7700 for bike rental availability.
Rental fees and policies
● Members: $6 per hour, $3 each additional half-hour.
● Non-members: $8 per hour, $4 each additional half-hour
Helmets are included with rental (and required for those 12 and under). Child carrier rentals are available for $4 (members) or $6 (non-members). No more than 20 bikes will be rented per hour to maximize enjoyment of the trails. Individuals are not allowed to bring their own bicycles on Preserve trails or property.