Playground & Splash Pad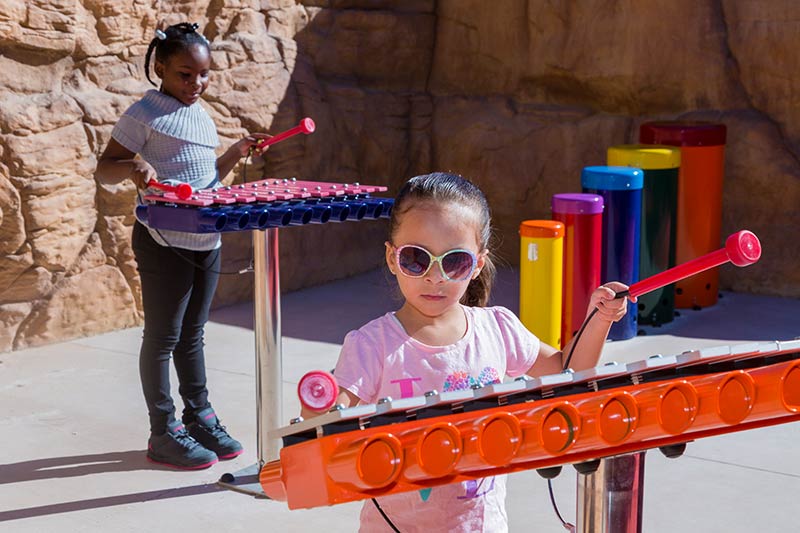 Main Children's Playground
Located in the Crossroad Commons near the Springs Amphitheater, our main children's playground was designed and inspired by kids and features recreational equipment and play structures, including musical instruments, interactive elements, and much more!
The playground offers little ones an opportunity to escape into a recreated desert canyon environment and experience all that comes along with it. Oversized replicas of wildlife are a main focal point of the playground, including a gigantic replica of a Peregrine Falcon perched high upon a rock, the recreated skeleton of a Wooly Mammoth partially buried in the sand, and a massive concrete Sidewinder snake winding alongside the playground's edge.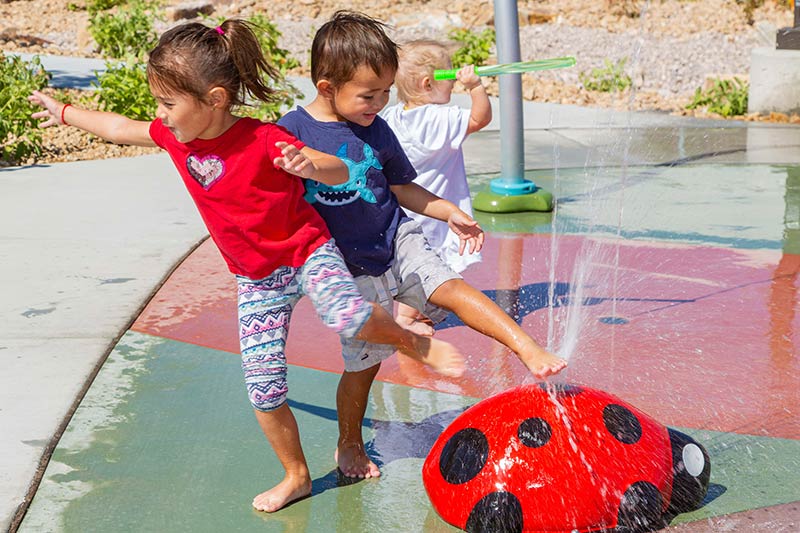 Mariposa Splash Pad
Little ones have another opportunity to soak up some fun at the Mariposa Playground! This splash pad and tot lot for children ages 2 to 5 is located on the south end of our campus, next to the Butterfly Habitat.
The Mariposa splash pad was made possible by the State of Nevada with support from the Springs Preserve Foundation. The run-off water from this splash pad is treated and returned to Lake Mead, which extends our community's limited water supply.
The splash pad water units are currently off for the fall and winter seasons. They are typically activated seasonally between Memorial Day and Labor Day. The play structures and seating area remain open year-round.
Playground Rules
Play elements on the main playground are recommended for children ages 5-12 years old. The splash pad is for children 2-5 years old.
Adult supervision is required at all times.
Surfaces may become slippery when wet.
Playground equipment may be hot. Check surfaces before letting children play.
No climbing on rock walls.
Food is not allowed in play areas.
Playground closes at 4 p.m. or dusk (whichever comes first.)
Get Active with Your Child
Biba is the new way to get active on the playground! Here's how to play:
Open the App Store or Google Play on your phone.
Search for "Playbiba" to find a variety of games such as Dino Dig and Butterfly Bounty.
Download a game and play with your child!