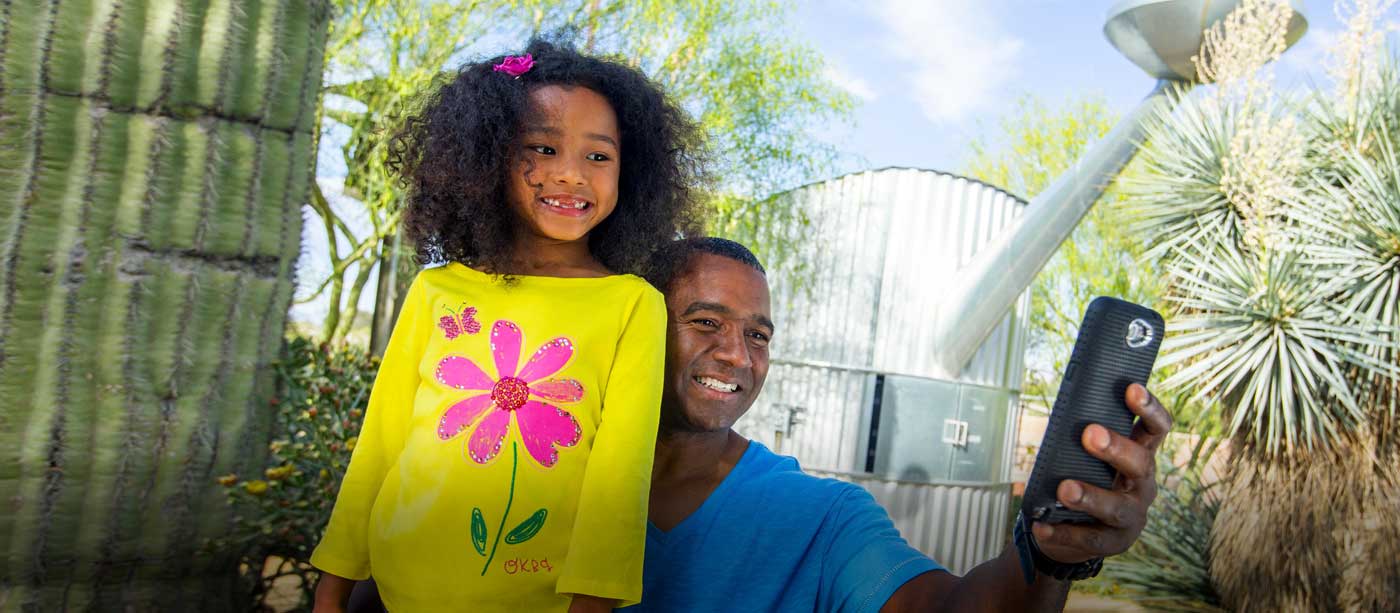 How to spend your day
With 180 acres of scenery, wildlife, exhibits and attractions, it can be a bit tough to figure out where to start on your visit to the Springs Preserve. Below are some suggestions of how to best spend your time here.
1-2 hours
If you're only visiting us for a short time, you're not going to want to miss the Origen Museum.
Traveling exhibit: The Origen Museum is home to our traveling exhibit space, which changes throughout the year. Visit our Events & Activities calendar for information on the latest exhibit.
"Miracle in the Mojave" film: Stop in our Big Springs Theater to watch "Miracle in the Mojave," an 8-minute, cinematic, sensory-surround film that introduces visitors to the Springs Preserve and explores the evolution of Las Vegas.
Flash flood exhibit: At one of the Preserve's most popular exhibits, you can feel the rush of 5,000 gallons of recycled water as the awesome power of a desert flash flood is recreated.
Animal habitat: Get up close with some of our most famous desert dwellers including Gila monsters, lizards, desert cottontails, a gray fox, a pocket gopher, snakes and scorpions.
Gift Shop: Before you leave, stop by the Gift Shop located directly next to the Big Springs Theater to take home a special memento of your visit.
Springs Cafe: Enjoy breakfast, lunch, or a refreshing snack in the spacious and relaxing cafe that includes stunning balcony views of the Las Vegas Strip.
Half a day
Take in all the sights and sounds of the Origen Museum mentioned above, then explore the following attractions:
The full day
Enjoy all the attractions listed above, plus these special features.
Video: Adventurous Preserve
From the flash flood exhibit in the Origen Museum to the beauty of the Botanical Gardens, make your "to-do" list for your next visit with this handy video guide!
Video: Toddler Time
Visiting with very small children? Most of the activities listed here should hold their attention, but be sure to check out Toddler Time on Mondays, Thursdays and Fridays, which is designed specifically for our tiny friends!